Decentralized lending protocol MakerDAO has now surpassed $1 bln (or 2.4 mln ETH) in locked value, according to data provided by DeFi Pulse.

It has become the very first DeFi project to achieve such a milestone, racing ahead of its upstart rival, Compound. The two gained 6.75 percent and 15.32 percent on July 26, respectively.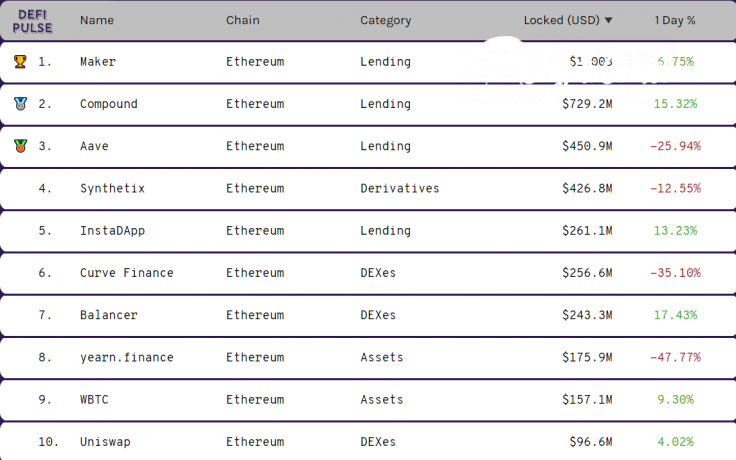 Image by defipulse.com
The DeFi bonanza
MakerDAO, which has been at the forefront of the DeFi movement from the get-go, allows receiving cryptocurrency loans in the Dai stablecoin by locking Ethereum in smart contracts.

Apart from Ether (ETH), Basic Attention Token (BAT), USD Coin (USDC), Basic Attention Token (BAT) and Wrapped Bitcoin (WBTC)—the most popular synthetic version of Bitcoin—are also accepted as collateral.

The recent milestone comes just five months after the whole DeFi ecosystem reached $1 bln for the first time.

Back then, Maker dominance was sitting at nearly 60 percent. It has since plunged to just 27 percent amidst the Cambrian explosion of other DeFi projects.

Back in June, Maker was toppled by Compound, another lending protocol for the first time, after Coinbase added its governance token COMP.
Beyond Maker and Compound
The DeFi bubble has seemingly grown out of proportion, with multiple DeFi-focused tokens such as Synthetix Network Token (SNX) and Kyber Network (KNC) seeing their prices surge earlier this month. They have since experienced sharp corrections.

Meanwhile, YFI, the native token of recently launched DeFi platform yearn.finance, skyrocketed almost 100,000 percent in just one week, which is strikingly reminiscent of the ICO craze in 2017.

After trumping Balancer and becoming the sixth-largest DeFi protocol, yearn.finance has now slipped to 8th place following a whopping 47 percent drop in locked value.