Any doubts about Ripple's secretive partnership with Bank of America (BoA) have been dispelled.

According to the company's email, whose authenticity has been verified by multiple community members, the second-largest U.S. bank that boasts $2 trln worth of assets under management, joined the RippleNet network earlier this year.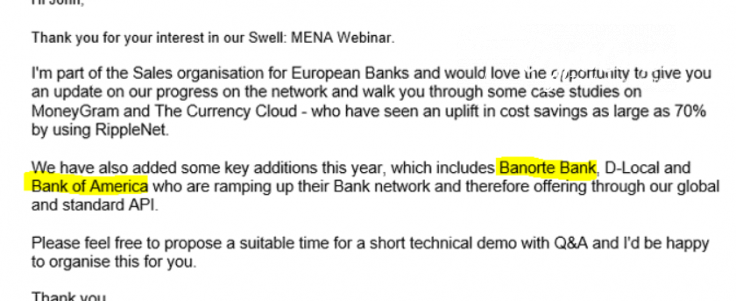 image by @panosmek
Yet another confirmation
Rumors about the tie-up started circulating back in 2018 after Ripple went as far as declaring BoA as a "partner" in its presentation for the IMF. The exact scope of their collaboration, however, remained unknown.
BoA started piloting Ripple's blockchain technology member as a member of an interbank group, called "the Global Payments Steering Group" (GPSG), that was created in 2016.

In October 2019, BoA allegedly hired a "treasury product manager" who specializes in Ripple's blockchain technology. Its now-deleted LinkedIn job posting stated the following:
"This role leads the product management team for the Ripple Project, a decentralized ledger technology-based solution to cross border payments marketed to GTS clients. The incumbent will be responsible for driving product strategy and growth, overseeing daily product management routines, and overseeing the development of new initiatives that result in an innovative and highly-competitive product offering."
This April, BoA's senior executive Julie Harris gave year-long speculations a new life by unambiguously stating that the bank had forged partnerships with Ripple and SWIFT on a podcast:
"It's not about our platform and our capabilities, it's about you as a client and the infrastructure you have and the ability for us to integrate, whether that's with platforms and capabilities that we built or partnerships that we have with the likes of Ripple or Swift"
The aforementioned letter appears to be definitive proof that BoA has indeed joined Ripple's extensive list of clients together with Banco Mercantil del Norte (Banorte), and payment provider D-Local. All of them were described as "key additions."

BoA isn't keen on blockchain
Still, it remains to be seen how far this partnership will go. In spite of its roster of blockchain-related patents, BoA has been rather critical of the technology.

Its chief operations and technology officer expressed her doubts about whether blockchain would be able to have any significant use cases last year:
"All of the big tech companies will come and say 'blockchain, blockchain, blockchain.' I say, 'Show me the use case. You bring me the use case and I'll try it'."
In sharp contrast to this, Mathew McDermott, who was recently appointed as a new global head of digital assets at Goldman Sachs, believes that every asset will end up on electronic ledgers as the bank is planning to launch its own coin.