The renowned real-estate investor and Bitcoin proponent, Robert Kiyosaki, has shared his fears that the current financial crisis in the US is going to get only worse.
'Afraid it's going to get worse'
The investor, financial expert and author of the 'Rich Dad, Poor Dad' book on financial literacy Robert Kiyosaki has taken to Twitter to say that he expects the financial crisis currently faced by the US and other major countries is going to get worse.
He reminded his followers that he had foreseen the current recession approaching but had no idea that it would roll out on such a massive scale.
Kiyosaki also stated that he would keep tweeting on this topic in order to provide support to average people who are trying to improve their financial state in the current negative market conditions.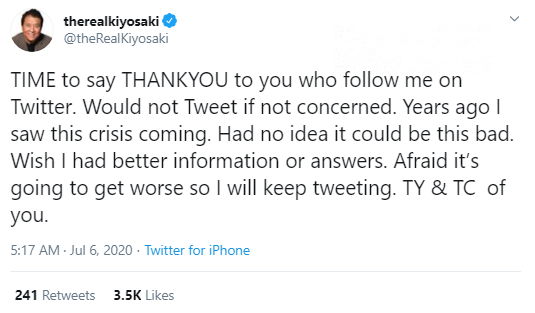 Image via @theRealKiyosaki
Betting on Bitcoin, silver and gold
In his previous tweets, Robert Kiyosaki multiple times shared a view that Bitcoin, silver and gold could protect investors from the upcoming inflation of prices and deflation of money that is likely to follow the crisis driven by the Chinese pandemic and the lockdown that followed.
He also tweeted that both silver and Bitcoin are available to buy even for people with an average income, since silver can be bought in coins and Bitcoin – in Satoshis.
'End the Fed'?
Kiyosaki's take on the response that the US Fed and President Trump made to the crisis is negative as he calls the newly printed USD fake.
Judging from his recent tweet, the financial expert believes that injecting such a lot of 'fake' USD in the economy (well over $6 trl since March) is going to ruin the US.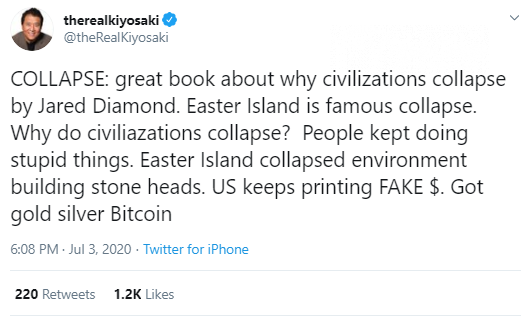 Image via @theRealKiyosaki
Other crypto and financial experts, such as Anthony Pompliano from Morgan Creek Digital, have multiple times shared a similar view, expecting this to be one of the factors that are likely to push the BTC price up in the near future.