Dutch cryptocurrencies analyst and macro investor PlanB, author of the well-known 'stock-to-flow', revealed the results of his audience survey. His Twitter followers were asked to choose the price that Bitcoin (BTC) could reach by December 2021.
Cautious Optimism
PlanB suggested four possible answers. Each of variants referred to one variant of Bitcoin's 'stock-to-flow' price model.
People had the option of choosing between the original prediction (S2Fv1), which foresees Bitcoin (BTC) reaching $55,000 in the next 15 months, the reconsidered 'stock-to-flow' prediction (S2Fv2 with $100K as the approximate target), and the cross-asset 'stock-to-flow' model (S2FX) with the unmatched goal of $288,000.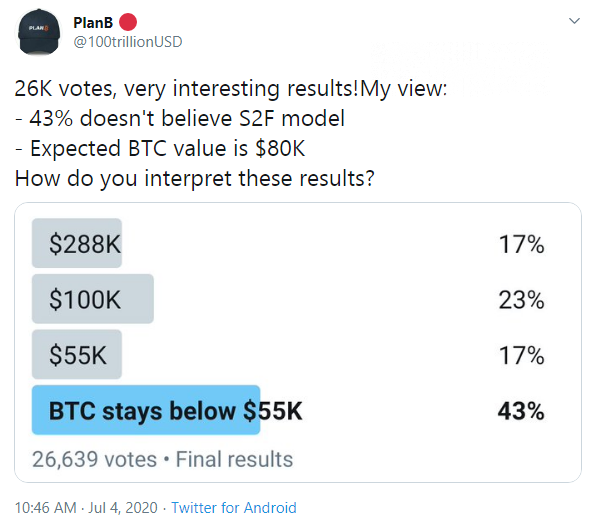 Image via Twitter
The most pessimistic option that was also on the menu assumed that the price of Bitcoin (BTC) would stay below $55,000.
The voters leaned towards the most cautious prediction: 43% of PlanB readers believed that we won't see Bitcoin (BTC) above $55,000 in 2021. Only 17% were confident enough to claim that a king coin would meet the most ambitious expectations of the analyst.
Support from All Sides
Moreover, PlanB repeatedly highlighted that $100,000 wasn't the ultimate target for the next bull rally. In June 2020, PlanB claimed that the orange coin may even reach $900,000 between 2020 and 2024.
His model attracts more and more supporters from different segments of the crypto community. Recently, mysterious Bitfinex whale Joe007 announced that he stopped bashing PlanB's predictions.

Image via Twitter
The legendary Bitcoin (BTC) investor and popular RT host Max Keiser also outlined that the 'Stock-to-Flow' models represented an example of 'valid and vital' analysis that's very insightful for an understanding of cryptocurrency economics processes.