According to data uncovered by Glassnode, the number of USDT wallets has increased to over 8,000,000 from 6,920,998 in July, showing expanding growth in the popularity of Tether's stablecoin and its constant use by the crypto community.
Meanwhile, Tether's balance on crypto exchanges has spiked 38 percent over the past 24 hours.
USDT reaches new milestones in terms of wallets and balances
Glassnode has shared a chart which shows that the amount of USDT holders has risen significantly since July 2019, and even since last month; on July 20 of this year, the number of USDT wallets totaled 6.9 mln.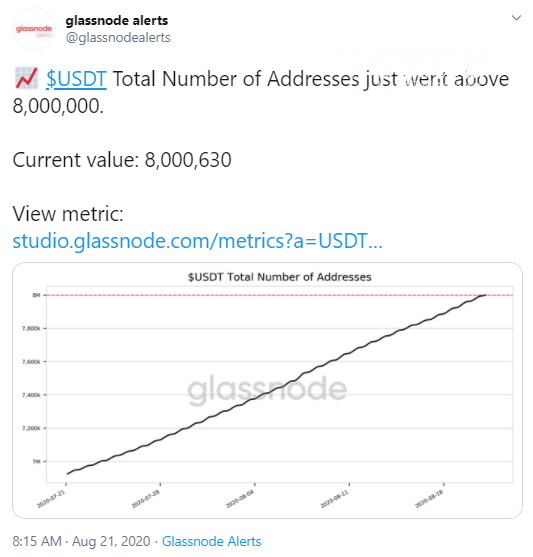 Image via Twitter
As of today, the number of USDT addresses has exceeded 8 mln. Tether is constantly emitting new stashes of its stablecoin running on several blockchains. The newly minted lumps are most often not less than 100-120 mln coins.
As for the overall USDT balance on crypto exchanges, here Tether has also hit a new milestone as the figures of this metric have soared by 38 percent within the past 24 hours, as per another Glassnode chart.
Huge USDT amounts go from Tron to Ethereum and 1 mln USDT get burned
Over the past day, Whale Alert has spotted quite a few USDT transactions carrying substantial amounts of this popular dollar-pegged stablecoin.
Fifty mln USDT was transferred from Tether Treasury to Binance. The amount of 1,100,000,000 USDT were swapped between the Tron and Ethereum blockchains via Binance and Bitfinex.
Ethereum's token ERC20 standard remains the most popular blockchain on which Tether runs, according to the Tether transparency page.
Besides, another 120 mln USDT have been minted at Tether Treasury, and 1 million coins were incinerated.
Further, Tether Treasury sent 40 mln USDT to anonymous wallets.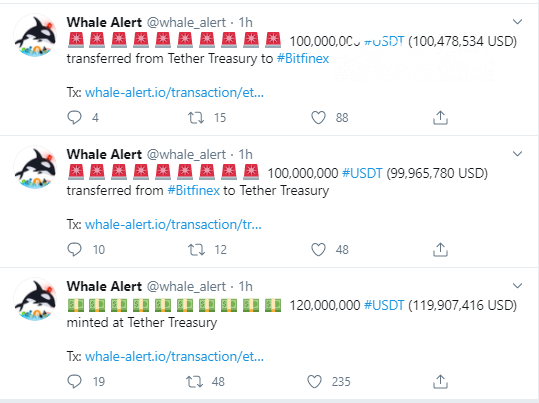 Image via Twitter
More USDT emerges as Bitcoin remains below $12,000
Now that Bitcoin is trading below the $12,000 level, the amount of USDT on crypto exchanges grows. Bitcoin has been unable to cross that level for a while already.
Back in May, Santiment agency reported that the correlation between the Bitcoin rate and the amount of USDT on exchanges was inverse, meaning that the growth of the USDT balances was likely to prevent Bitcoin from surging.