Glassnode, a popular supplier of blockchain analytics data, has tweeted that three metrics related to Bitcoin transactions have shown substantial rises over the past twenty-four hours and reached new ATHs.
Number of BTC transactions is 25.9% up
The analytics company has reported that the overall amount of transactions conducted with BTC has seen a substantial increase by 25.9 percent to 13,824 from 10,982.500.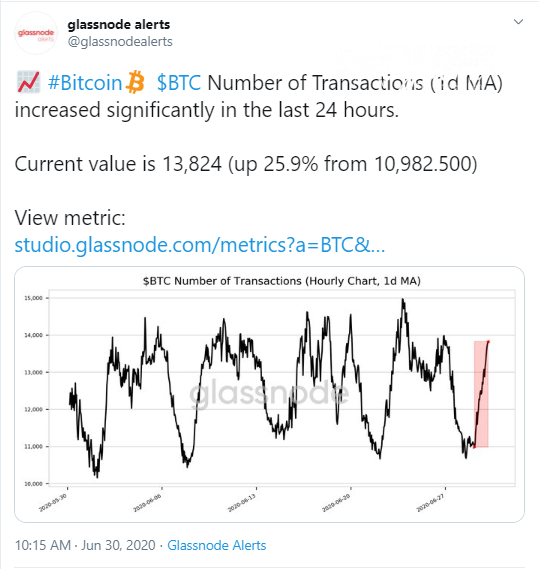 Image via @glassnodealerts
BTC total transaction size spikes almost 50%
Glassnode has also shared a chart which shows a major spike in the size of total BTC transactions in the last 24-hour period. It has surged a whopping 43.5 percent, reaching a new high of 8,025,718.833 after 5,592,011.625.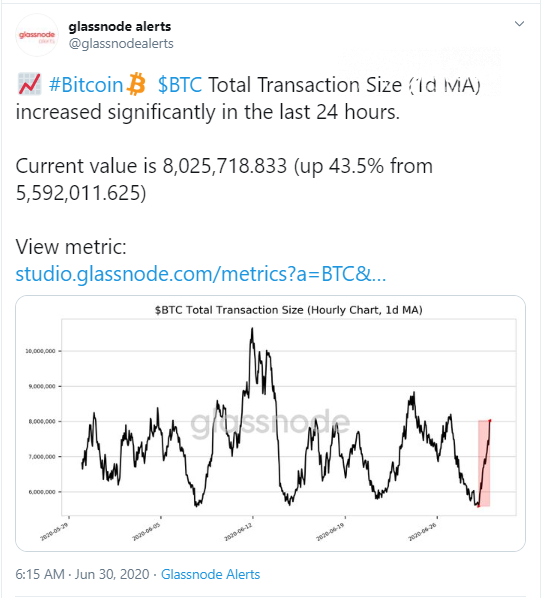 Image via @glassnodealerts
The amount of BTC mean transaction size is also 18.3 percent up.
These three metrics are likely to signify a growing interest from both institutional and retail investors to the flagship cryptocurrency with BTC miners selling their Bitcoin stashes recently and a major hedge fund Grayscale from the Wall Street has been purchasing a substantial amount of BTC mined in 2020 so far.
Bitcoin returns are +42% in Q2
Another popular analytics agency Skew has published a chart which shows that in Q2 this year, Bitcoin has demonstrated a surge by forty-two percent in quarterly returns.
In Q1 2020, BTC showed -10.58 returns.
Bitcoin quarterly returns also showed gargantuan figures back in Q2 of 2019 (+157.54%) and 2017 (+125.32%), as per the data shared by Skew.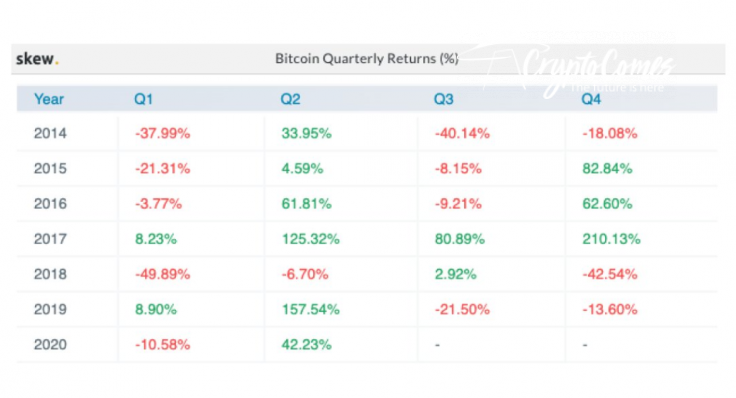 Image via @skewdotcom