The chief executive of Binance has brought to notice the problem of people losing their crypto saying that he has been often facing users telling him about self-losing their tokens and asking for tools to help them recover their crypto.
'Protecting from SELF losing tokens is a big market'
Changpeng Zhao has posted a tweet about the issue of holders losing their crypto (nothing to do with scammers) and saying that this problem has become more common than the community would like to admit.
In his tweet, CZ stated that people often approach him and ask for advice. The head of Binance admitted that there is no perfect tool to help recover lost tokens or prevent self-losing them.
However, he said that some of the platforms and apps mentioned in the comment thread could become popular in the future and admitted that preventing this issue has become a big market already.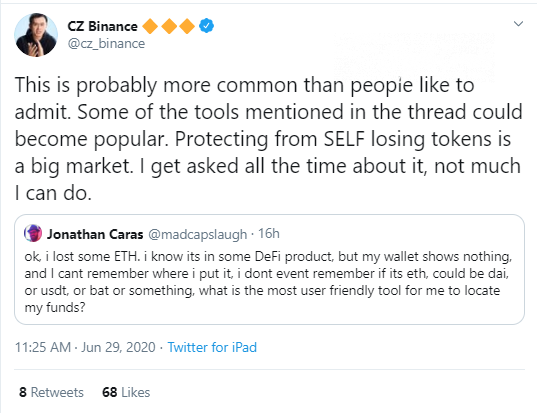 Image via Twitter
CZ posted his message in response to a tweet from Jonathan Caras, the CTO of Lionschain Capital.
Mr Caras tweeted that he has lost his ETH stash which was held in a DeFi app. However, he cannot remember how many ETH it was (or whether it was ETH at all, or, perhaps DAI or USDT) and which DeFi platform he had locked his crypto with.
Jonathan Caras has asked the Crypto Twitter to help him locate his coins.
Peter Schiff losing his private key to BTC wallet
In January this year, the Crypto Twitter had heated discussions about the prominent Bitcoin critic Peter Schiff losing access to his BTC wallet.
It turned out that he first received it with a $100 worth of BTC as a gift and then other users sent Schiff small donations in an attempt to convert this major Bitcoin hater.
Peter Schiff spread the word that he was unable to enter his wallet and access BTC. Some, including Anthony Pompliano from Morgan Creek Digital, assumed that Peter had merely lost his private key and reproached him for being irresponsible.
But Mr Schiff insisted that the wallet had lost the password somehow on its own and used this situation as another argument against Bitcoin.