Bit Digital, Inc., a U.S.-based cryptocurrencies mining company, added $10,080,000 in Bitcoins (BTC) to its reserves. This purchase brings the total share of Bitcoin (BTC) supply owned by institutions closer to a whopping 4 percent.
Miners are staking sats
Bit Digital, Inc. (NASDAQ: BTBT), previously known as Golden Bull Limited, started its operations in Feb. 2020. It owns Bitcoin (BTC) mining computers various provinces of the PRC and in Texas. It runs cutting-edge mining gear by Bitmain, MicroBT and Innosilicon.
According to a recent tweet by seasoned crypto and blockchain expert and Bitcoin (BTC) advocate Rodolfo Novak, who goes by @nvk on Twitter, Bit Digital, Inc. has joined the list of publicly listed companies that allocate the flagship cryptocurrency.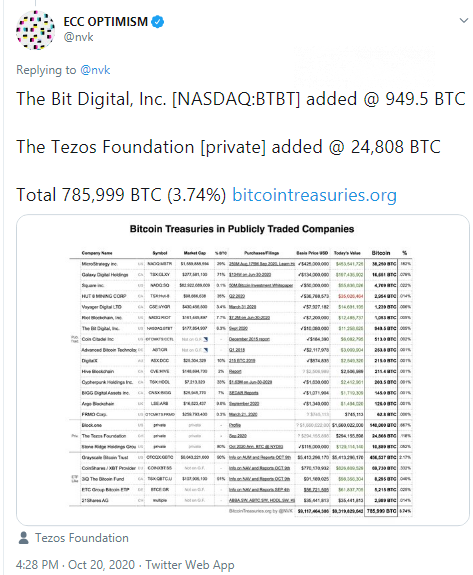 Image via Twitter
In its official press release that covers the financial results of the first half of fiscal year 2020, Bit Digital disclosed to the U.S. SEC an impressive increase in mining profits.

In the bearish month of Sept. 2020, Bit Digital expanded its mining gear suite with 100 high-performance MicroBT M21S Bitcoin (BTC) miners. Now their total hashrate is 1,250 PH/s, while the total BTC allocation has broken into the eight-digit zone:
By the report date, we have earned an aggregation of 949.51 bitcoins and recognized unaudited revenues of approximately $10.08 million.
Institutions are responsible for 3.75 percent of circulating Bitcoin (BTC) supply
Given this announcement, to the present pro-Bitcoin corporations have allocated $9,367,146,800, or 785,999 BTC.
This trend is very far from coming to an end. While Bitcoin (BTC) is conquering the bearish stronghold at $12,000, more and more well known public and private companies are buying.
As covered by CryptoComes recently, Stone Ridge Holdings Group bought 10,000 Bitcoins (BTC) through its subsidiary, New York Digital Investment Group (NYDIG).
Previously this year, Stone Ridge Holdings Group was named among the XRP custody providers of the riches of Chris Larsen, the Ripple chairman.