Today, Chainlink has seen a rise of almost fifteen percent, becoming the best performing cryptocurrency on the Top 20 list, according to CoinMarketCap.
The surge in price happened after recent allegations by the U.K.-based Zeus Capital investment bank whose Twitter posts claim that Chainlink has been artificially pumping its coin's price.
The bank also published a report which says that the blockchain company has been making fake partnerships, using them as a marketing scheme.
Fake Zeus Capital threatens Chainlink with a lawsuit
People impersonating the U.K.-based Zeus Capital bank are threatening to press charges against Chainlink. In a recent tweet, they pointed out that on August 2 LINK's price lost ten percent within an hour, followed by a surge over fourteen percent.
This morning, the coin's price hit a new all-time high, adding more than thirteen percent over the past twenty-four hours.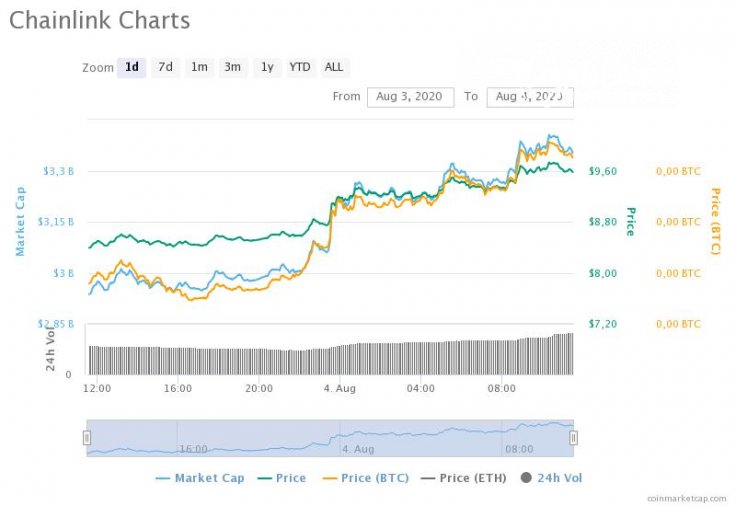 Image via CoinMarketCap
At the moment, growth has increased to slightly over fourteen percent and the coin is trading at $9.58. According to "Zeus Capital," this is the fault of Chainlink's "marines" manipulating the coin's price.
The ill-wishers insist that they have "unlimited resources to go after LINK" and that they have documented everything to do with the alleged price manipulation. They have threatened that all who were involved in this will face consequences.
The screenshots published in the tweet below claim that "LINK marines" pumped the coin to liquidate Zeus Capital's short position.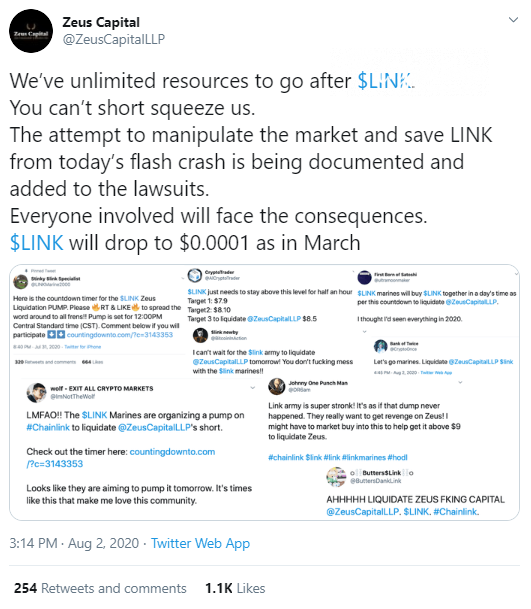 Image via Twitter
Previously, they tried to offer money to several traders, including Scott Melker and Josh Rager, for posting a negative LINK chart.
Melker and Rager rejected the offer; however, anonymous Twitter user "icebergy" agreed to do it for a fee of 5 BTC, or $56,275.
Real Zeus Capital bank clarifies the situation
On July 20, Zeus Capital Limited published a post in which it clarified that it has nothing to do with the Zeus Capital LLP that is threatening Chainlink and accuses it of bad acting.
The article stated that all legitimate research and reports are published under the name Zeus Capital Limited.
"For the avoidance of doubt we would like to state that Zeus Capital Limited has not produced or published research on this subject and has no relationship or affiliation with Zeus Capital LLP whatsoever."
Allegedly fake Chainlink-Callisto partnership exposed
Zeus Capital LLP also published an interview with "an industry professional who held a senior position at Callisto Network." They did not reveal the person's name or actual position in the company to save him/her from being trolled by "LINK marines."
This person stated that after Callisto had offered Chainlink to join a partnership, the latter immediately agreed and published a press release to that effect.
However, the person claimed that no actual collaboration took place and Callisto did not integrate Chainlink oracles.