XRPL Monitor just revealed that Ripple co-founder Jed McCaleb transferred five million XRP a few hours ago.
Data shared previously by Whale Alert confirms that this crypto will be seen on the market.
McCaleb keeps receiving XRP payouts from Ripple
Jed McCaleb is former CTO of the blockchain giant Ripple and one of its co-founders. He left Ripple to found Stellar Lumens (XLM)—a platform for payments that is also targeted at banks and financial institutions.
According to the settlement agreement, Ripple has been paying substantial amounts of XRP to Caleb as compensation for his work as Ripple CTO in the past.
McCaleb ditched Ripple to set up Stellar
The current CTO of Ripple, David Schwartz, stated that McCaleb decided to resign from Ripple when the company's board refused to implement several ideas he had.
However, Schwartz also said, once McCaleb saw that his ideas—including the Facebook giveaway—were not good, "Stellar pivoted to become a clone of Ripple."
Jed McCaleb's compensation from Ripple, according to Ripple's current CTO, will eventually add up to more than $1 bln, "despite his best efforts."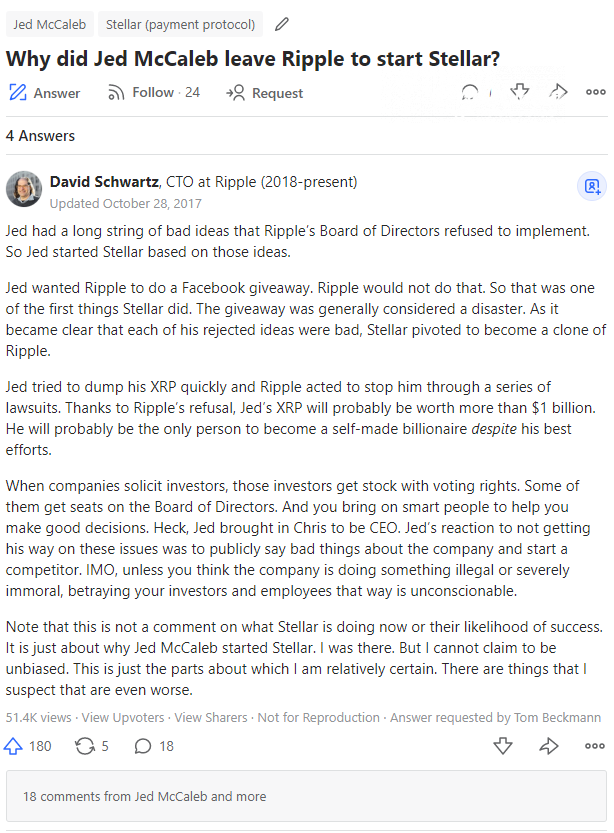 Image via quora.com
Jed McCaleb cashes out 5 mln XRP
According to data shared by Whale Alert earlier this year, from time to time Jed McCaleb sends XRP from his wallet, named "tacostand" to the address "rLkMJhSVwhmummLjJPVrwQRZZYiYQhVQ1A" in order to cash out this crypto later on.
This was the address to which the 5 mln XRP ($1,483,091) were sent from "tacostand."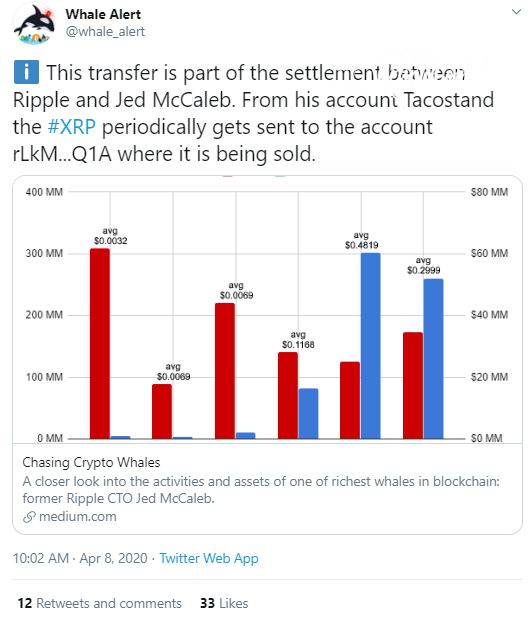 Image via Twitter
Will this affect XRP?
At press time, XRP is on the rise, along with other altcoins and Bitcoin, of course, which is dragging them along to the North.
Investors are buying XRP, as it has surged from $0.20 to $0.29 over the past month, according to a chart from CoinMarketCap.
Besides, crypto exchanges also seem to be stocking up on XRP to provide enough of it for traders and new investors. The demand seems to be high enough, so Jed McCaleb's dumping 5 mln XRP is unlikely to change the state of things at the moment.