In a Sept. 3 Medium post, Angelo Capossele, a senior research scientist at the IOTA Foundation, announced the release of version 0.2.4 of the Pollen testnet.
The most recent update includes multiple improvements that take IOTA users one step close to full decentralization.
The first community-based dRNG is coming
Getting down to the technical details, Pollen v0.2.4 enhances the Tangle-BadgerDB interaction and introduces new APIs for debugging.
It also adds a tool for randomized seed generation that allows creating a static node identity.
The most notable improvement is the integration of the decentralized Random Number Generator (dRNG) module developed by IOTA's top mathematician Serguei Popov. The forthcoming Pollen v0.3.0 update will include its community-based version:
We would like to thank our GoShimmer X-Team community members for their help and support on kicking off the testing phase of the Decentralized Random Number Generator (dRNG) module. The upcoming Pollen v0.3.0 will bring the first IOTA community-based dRNG!
The previous update, which was covered by CryptoComes last month, includes minor improvements that pertain to synchronization and visualization.

Particularly, they got rid of the bug to make it possible to repeatedly request missing messages and fixed the GoShimmer dashboard explorer to prevent from crashing.
Coordinator-less IOTA 2.0
The Pollen testnet, which released in the wild in late June, is a testnet of the coordinator-less IOTA 2.0 network.

The much-awaited rollout of Coordicide, a protocol upgrade that will make the network completely decentralized, is taking place in third phases: Pollen, Nectar, and Honey.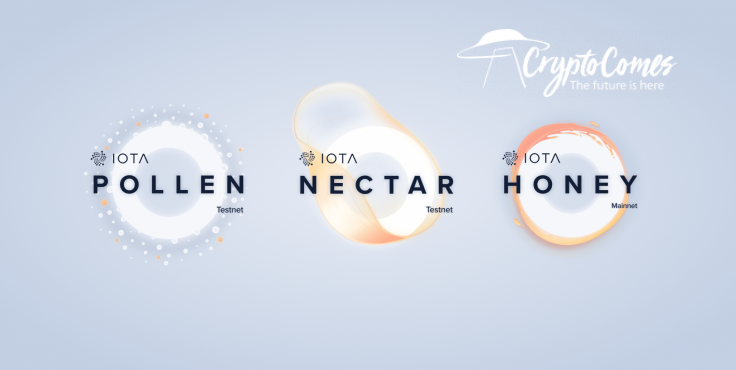 image by blog.iota.org
During the Honey phase, IOTA will reward its community for finding bugs and vulnerabilities before finally moving on to Honey, the first iteration of IOTA 2.0.