Former investment banker and renowned fintech speaker, Ellie Frost, shared an unusual take on the motivation behind MicroStrategy's Bitcoin (BTC) journey. Its background is far more complicated than it appears.
Four horsemen of Microstrategy's Bitcoin (BTC) bet
Ms. Frost analyzed the attitudes towards cryptocurrencies demonstrated by some of MicroStrategy's major shareholders. She revealed that some of them became pro-Bitcoin months before MicroStrategy itself.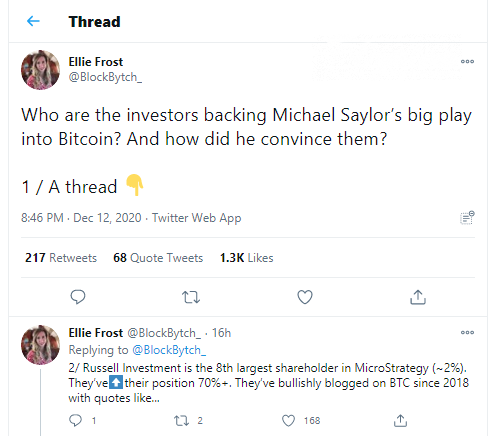 Image via Twitter
For instance, investing veterans Russell Investment publicly shilled Bitcoin over "central banks' foundations" since uber-bearish 2018. Russel Investment is the eighth largest MicroStrategy shareholder with 2 percent of MSTR stocks in its posession.
Another holder from the Top 10, Renaissance Tech, has increased its MSTR positions by 300 percent since June. Even the Citron Fund, which had been known as an avid Bitcoin (BTC) critic, turned bullish about the crypto king and released a super-optimistic thesis on MSTR.
According to this paper, the stocks have all the chances to add 145 percent—to be valued over $700 per share.
This story has its icing on the cake: world-leading assets managers from BlackRock hold 15 percent of the MSTR supply, while its CIO dropped a bombshell two weeks ago with a mega-bullish announcement:
BTC is here to stay.
But why is this important?
Ms. Frost explained how these processes resulted in a gargantuan Bitcoin (BTC) bet by Microstrategy. Besides initial long-term optimism about the flagship cryptocurrency (mostly from Russel Investment and RenTech), an impassioned educational campaign by Michael Saylor has also contributed to this result.
Moreover, there are not so many alternatives to investing really big money in crypto without purchasing tokens directly—which is usually associated with tax and regulatory barriers.
Buying through the "trusts" of Grayscale Investments implies paying huge "premiums." Thus, in terms of institutional money, MicroStrategy looks like an alpha for Ms. Frost:
If MSTR proves a success, they could use Saylor's playbook to advocate for BTC at their other portfolio companies too.
As covered by CryptoComes previously, BitMEX Research recently released a short thesis that highlights the drawbacks of Grayscale products in terms of assets redemption.