BitMEX research, an analytical arm of pioneering crypto derivatives exchange BitMEX, has shared its review of ETF-like crypto-focused products. They provide investors with exposure to the digital assets market eliminating the need to buy and store crypto coins directly. Are the days of Grayscale's supremacy numbered?
The leader has too many flaws
Grayscale Investments, the DCG subsidiary, remains the undisputed leader of this nascent segment, BitMEX Research admits. Its AUM surpasses 550,000 Bitcoins (BTC), which is equal to more than 2.6 percent of its available supply. Since Black Thursday in Crypto, it has increased its stake aggressively.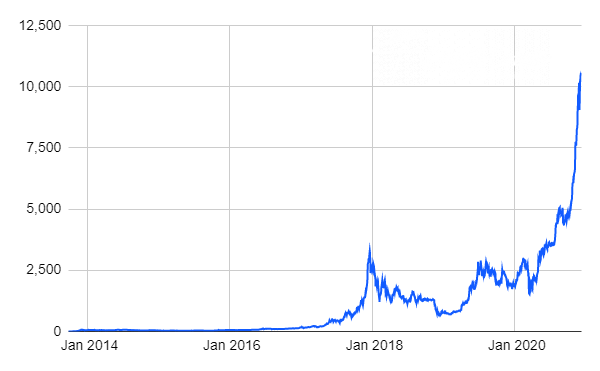 Image by BitMEX Research
As a result, its net aggregated value of assets under management surpassed $10 billion earlier this month. Apart from Bitcoin (BTC), it also offers products based on Ethereum (ETH), Ethereum Classic (ETC), Litecoin (LTC), XRP, Stellar Lumens (XLM) and Horizon (ZEN) digital currencies.
Meanwhile, BitMEX indicated numerous demerits of Grayscale Bitcoin Trust (GBTC). First of all, it is not redeemable: an investor can "create" new investing units, but he/she is unable to redeem it in Bitcoins (BTC). That discrepancy makes GBTC less transparent and limits its market functions.
Also, Grayscale sells its shares with a massive premium added to the current market price of basic digital assets. Grayscale's average premium was almost 40 percent in the last five years. During the periods of maximum market "fear," this premium was as high as 133 percent. For the analysts, this situation does not look healthy:
In our view the current situation is not sustainable and the premium will decline, either driven by reduced demand for Bitcoin or increased competition from other exchange traded bitcoin products.
To provide some context, Grayscale Litecoin Trust (GLTC) offers Litecoin-based shares with the unbelievable premium of 3,197 percent.
German-listed Bitcoin (BTC) offerings look strong for BitMEX
There are two products among the most dangerous challengers of Grayscale Investments—namely Bitcoin ETP and the VanEck Vectors Bitcoin ETN. The latest one was launched on Nov. 25 only but has great prospects in the segment.
Its products are transparent and redeemable, physically replicated and "open ended." Users can create and redeem them with very low latency. Its shares are traded almost at the actual Bitcoin (BTC) price.
Although Bitcoin's (BTC) ETN is responsible for only $3.4 million out of VanEck's mammoth holdings of $50 billion, it has all the chances of leaving its competitors in the dust. However, Grayscale has one strong advantage: its shares are listed in the U.S.
Even with its high operational fee of 2 percent, Vaneck's product may be attractive due to its well-designed structure and purchasing mechanisms:
The VanEck product is a very interesting addition to the market and in our view this product is likely to gain significant traction.
VanEck is a veteran U.S.-based investing corporation active since 1955. It offers ETFs on many types of assets, including commodities and digital currencies.