Proof-of-stake blockchain Harmony has integrated Chainlink's oracle, accordiong to its recent Medium blog post.
Stephen Tse, the co-founder of Harmony, believes that the tie-up will boost the blockchain's utility and decentralization:
"Increasing utility and decentralization is critical for our long-term success. This integration with Chainlink is key in that journey and we're so excited to see developers exercise creativity to build DeFi and cross-border finance on Harmony with Chainlink".
Why Harmony needs Chainlink
Because of the integration, Harmony will make use of more than 30 price feed powered by Chainlink's oracles that can be applied in cross-border finance as one of the possible use cases:
"We can imagine several such cross-border finance use cases that would need access to reliable and trustless price feeds of off-chain data. This is where Chainlink becomes a strong pillar for value transfer over Harmony."
They will also be able to leverage Chainlink's external adapters to access off-chain data and connect to its nodes.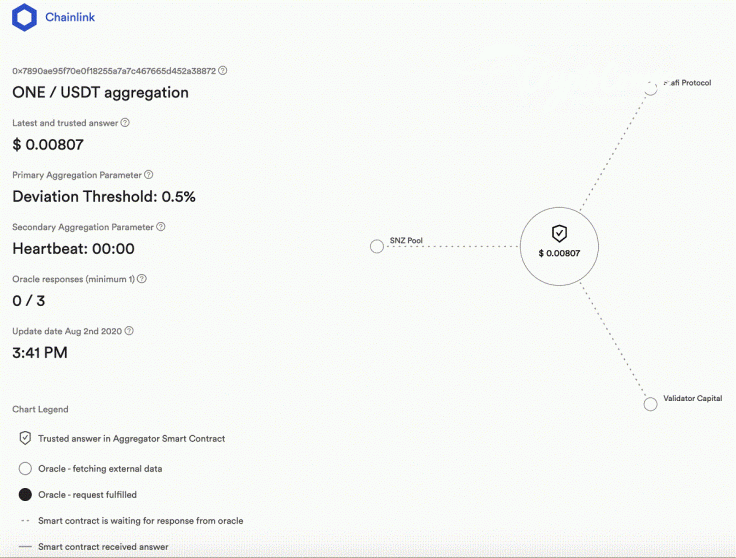 image by medium.com
Apart from Harmony, Chainlink also forged a slew of other notable partnerships within the cryptocurrency space. Its oracles were recently integrated by Tezos, Synthetix, and Kyber Network (to name a few).

As reported by CryptoComes, Chainlink, whose LINK token reached yet another all-time high, also partnered with Provide Technologies, an enterprise-level platform for distributed systems.


A $7 mln grant program
Harmony also announced that those developers who build applications on the Harmony blockchain and utilize Chainlink can be part of its $7 mln grant program that was announced back in July.

Every month, it allocates 154.2 mln tokens to the ecosystem development. All active grants are publicly available.

In order to apply for one, the developer has to secure active users that will drive activity on the Harmony mainnet.

Tse says that his vision is to fund "hundreds of projects."