Data provided by CryptoCompare shows that there is a distinct correlation between Chainlink's (LINK) popularity on social media and LINK's price action.

The research firm describes LINK as one of the "standout altcoin performers" following its impressive price rally in July.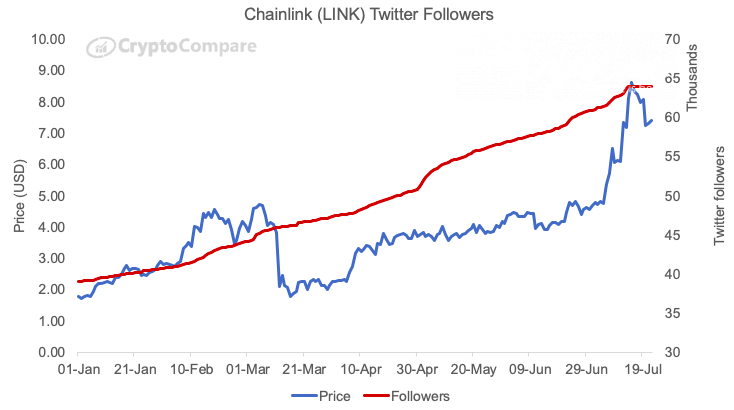 Image by @CryptoCompare
A chicken-or-egg problem
In mid-July, Chainlink's official Twitter account hit 65,000 followers, which also coincided with the LINK price hitting its current all-time high of nearly $9.

This presents a typical chicken-or-egg problem. Some might argue that growing hype on social media (partially fueled by routine partnership announcements and bullish price charts) was behind Chainlink's wild run. Others might suggest the opposite—that LINK gained a lot of media attention by reaching new highs, which provoked a cycle of FOMO.

Beyond Twitter, LINK remains the darling of the "biz" board on controversial imageboard 4chan where "anons" started shilling the cryptocurrency long before it hit the mainstream. Most LINK-related Twitter accounts are teeming with memes that originated on 4chan.

Mechanism Capital founder Andrew Kang half jokingly opined that 4chan is more powerful than China when it comes to driving market moves:
"One of the most interesting market dynamics at play right now is that 4chan has become the largest market driver. More powerful than even China or institutional crypto fund capital right now."
It is not just altcoins
Back in 2018, researchers from the Stevens Institute of Technology found that the price of Bitcoin, the world's largest cryptocurrency, could also be influenced by social media buzz.
"This was the first robust statistical finding to verify that social media and Bitcoin prices are actually linked. It may be intuitive, but positive sentiment moves Bitcoin prices."
Based on 3.4 mln analyzed tweets, the researchers came to the conclusion that infrequent posters (not Crypto Twitter regulars) actually had the power to move the BTC price.