On his Twitter account, the famous crypto analyst and trader Alex Krüger presented an interesting comparison of the key assets price reaction to events in the Trade War between the United States and China. The comparison was not without the Bitcoin chart.
Markets the day Trump lost it.

All move in sync & react immediately but for $BTC. This is normal, as it is not a RORO asset and doesn't react to monetary policy decisions.

Surprisingly, $BTC seemingly traded the later news. Likely a coincidence based on subsequent price action. pic.twitter.com/MHqNw3I0SD

— Alex Krüger (@krugermacro) August 24, 2019
Krüger notes that BTC, in contrast to RORO assets, is not inclined to respond to decisions on monetary policy. However, he noted that the BTC/USD pair was trading on later news, perhaps this is just a coincidence based on the subsequent price action.
Restless Trump
A day earlier, the analyst reacted to the US president tweets, which appeared after the speech of the Fed's Chairman Jerome Powell. Krüger believes that Trump doesn't want to make a deal with China, considering it unprofitable for votes. But he pressures the Fed for lower rates, in the worst scenario, the Fed will become the scapegoat.
In one of the tweets, Donald Trump directly called the Fed's Chairman and China's Chairman enemies, to which Alex Krüger also reacted.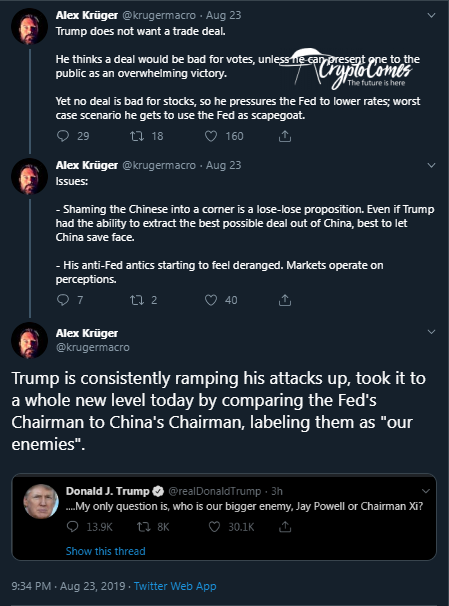 https://twitter.com
One of the last in the series was a tweet where the analyst notes that Bitcoin for the first time sharply reacted to events in the Trade War. He also backed up this idea with a graph.
Today was the first time $BTC reacted sharply in *real-time* to a Trade War breaking headline or $USDCNY fix. pic.twitter.com/Usibh3bSD5

— Alex Krüger (@krugermacro) August 23, 2019
With the intensity with which the Trade War erupts, we can expect other, no less interesting tweets from Alex Krüger in the near future