Seasoned investor and analyst Arthur Cheong, founder of DeFinance Capital investment fund, has noted that Ethereum (ETH) strikingly outperforms all platforms that attempted to challenge its superiority in terms of decentralized application hosting platforms.
What's going on in the shadow of the ETH/BTC drama
Cheong tracked the performance of two types of massively adopted digital assets against Ethereum (ETH). Both large-cap crypto behemoths and first-gen "Ethereum-killers" have found no success compared to the second cryptocurrency.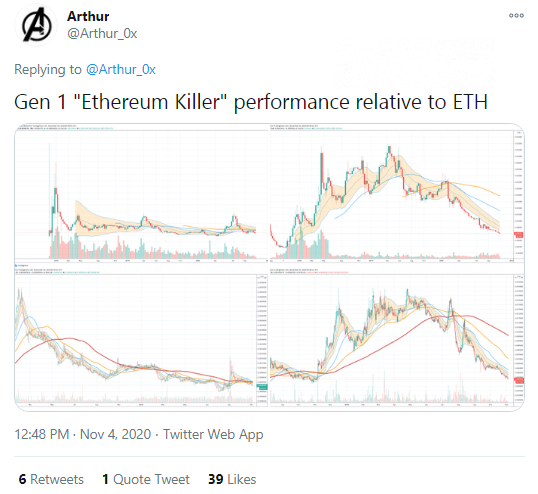 Image via Twitter
In terms of performance against Ethereum (ETH), Eos (EOS) showcases poor results. Right now, the EOS/ETH ratio inches closer to Q4, 2017, lows. It is worth noting that the EOS public chain was not even deployed to mainnet three years ago: EOS existed as ERC-20 token.
Another "Ethereum killer," Tezos (XTZ) is almost at its yearly low against Ethereum (ETH). For Cardano (ADA), this indicator looks slightly better, though ADA/ETH is also at a multi-month bottom.
The TRX/ETH ratio reached its local low in mid-August amidst the controversial launch of the native Tron-based decentralized exchange. All charts shared by Cheong are built on one-week timeframes.
Behemoths do not look better
The investor admitted that XRP and Bitcoin Cash (BCH) are also seeking the lowest rates against Ether since the days of the 2017 bull run.
By contrast, the relationship between Bitcoin (BTC) and Ethereum (ETH) has not shown such ingenious dynamics. As covered by CryptoComes, at the peak of its performance against Bitcoin (BTC), one Ether was worth 0.04 BTC. This spike was registered prior to the early-September Bitcoin (BTC) drop from $12,500 to four-digit levels.
However, a nascent FOMO run of Bitcoin (BTC) managed to erase 25 percent of this splendid number in a few weeks. Bitcoin Domination's (BTC.D) upsurge over 60 percent has brought the ETH/BTC ratio back to 0.03 on Oct. 21.