Besides a breathtaking Bitcoin (BTC) run, cryptocurrencies traders noted one more local breakout. Ethereum-to-Bitcoin (ETH/BTC) has plummeted to levels unseen since the first few hours of August.
Altseason ended?
Following the impressive Bitcoin (BTC) upsurge above $12,290, the ETH/BTC ratio touched the local bottom. On some exchanges it dropped to 0.030612, which is the lowest value for this indicator since Aug. 1.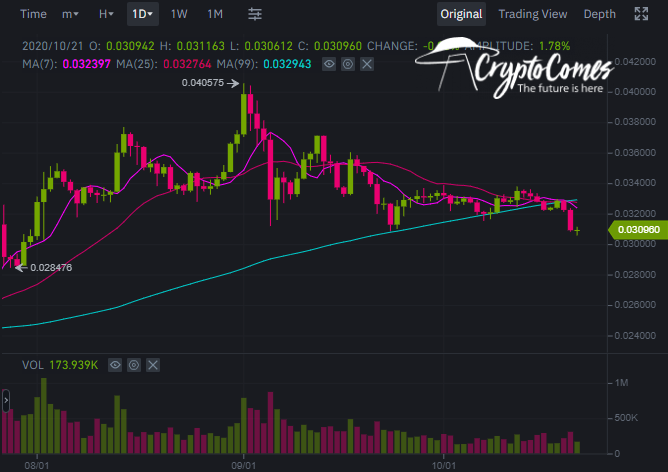 Image by Binance
Thus, this crucial indicator declined 25 percent in 52 days. Its breakout above the magnificent 0.04 level made crypto pundits speak about an episode of the "altcoin season" or "altseason."
As covered by CryptoComes, on Sept. 1, ETH/BTC revisited the levels of uber-bearish December 2018. The 33 percent increase in this indicator registered in August injected a lot of hope into altcoin traders.
According to Skew on-chain analysts, amidst this run, 5 percent of Ethereum (ETH) contracts traders were sure that Ether would close the turbulent year of 2020 over $800. Meanwhile, one trader out of three viewed Ether's chances of reconquering $400 by the end of the year as pretty good.
Bitcoin (BTC) reestablishes its dominance
Also, the ETH/BTC price inches closer to breaking out of the multi-year trend that took shape in mid-2017. Anonymous cryptocurrency trader @JJcycles noted that a breakout may come as early as February 2021.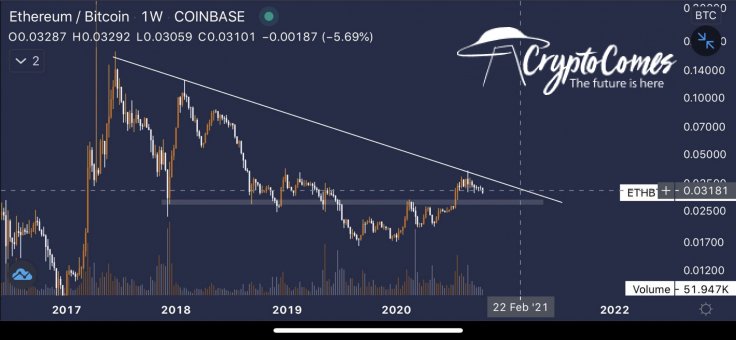 Image by Twitter
Bitcoin dominance (BTC.D), the crucial metric that refers to the ratio of Bitcoin's market cap to the capitalization of all cryptocurrency assets, has also revisited early August levels.
Only three days ago, BTC.D ended its humiliating journey in sub-60 percent waters. Today, Oct. 21, in the early morning hours, it surged to 61.73 percent.