Amidst today's correction, which has already stolen 7.4% of the Bitcoin (BTC) price and 12.6% of the Ethereum (ETH) price, one sensitive milestone has every chance of going unnoticed. However, it can be an indicator of a significant mid-term trend.
One more local high for Ethereum (ETH)
In their recent tweet, the Skew analytical team that addresses the sphere of cryptocurrencies derivatives trading, has announced a crucial milestone. The Bitcoin (BTC) price calculated in Ethers has not been so low since uber-bearish December 2018.
ETH / BTC breakout, highest since 2018 pic.twitter.com/46TkT62pOr

— skew (@skewdotcom) September 2, 2020
The ETH/BTC ratio showcased by Skew researchers has reached 4%; one Bitcoin (BTC) was equal to 25 Ethers. This phase of "flippening" is the result of the steady growth of the Ethereum (ETH) price calculated in Bitcoins (BTC).
For months, the level of 0.03 was considered a crucial one for ETH/BTC. It was surpassed in late July 2020 for the first time since 2019, which injected new life into "altcoin season" or the "altcoin spring" narrative.
After 0.03 BTC/ETH, the level of optimism among Ethereum (ETH) futures traders increased. According to Skew statistics, almost 5% of Ethereum (ETH) contracts market participants expected Ether to close 2020 over $800.
Bitcoin (BTC) dominance sits below 60% for 30 days in a row
The Bitcoin dominance (BTC.D) ratio is another meaningful indicator typically utilized for "altcoin season" detection. It refers to the ratio of Bitcoin's market capitalization to the overall market capitalization of recognized digital assets.
One month ago it dropped below 60% for the first time since July 2019. Many analysts treated this as a short-term swing, but altcoins managed to suppress BTC.D below 60%.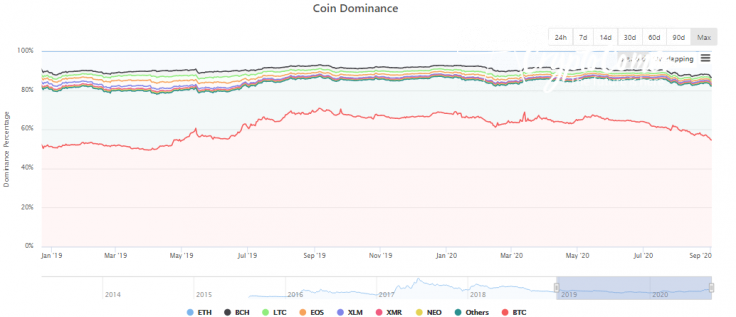 Image by Coingecko
As covered by CryptoComes previously, in August 2020 the Ethereum (ETH) price surpassed Bitcoin's (BTC) on the 24-hour trading volume several times.