Vitalik Buterin has taken to Twitter to note that the merge between Ethereum 1.0 and its much-hyped version 2.0 is already underway:
Work on "the eth1 -> eth2 merge" is already happening. https://t.co/TfErDqcc9B

— vitalik.eth (@VitalikButerin) July 23, 2020
This marks an important milestone in the process of its transitioning from proof-of-work to proof-of-stake.

Working together
The Ethereum 1.0 chain is now capable of interacting with Ethereum 2.0 to enforce consensus, according to the results of the initial testing.

image by @dannyryan
The merge was performed by Mikhail Kalinin of TXRX Research (@mkalinin2) and Ethereum core developer Guillaume Ballet (@gballet).
Kalinin's ETH 2.0 simulations were able to defer block production, moving closer to eliminating PoW mining.
As explained by Kalinin in his blog post, the next step would be bringing core consensus functionalities:
"We propose a core consensus implementation as the next step towards the merger. A scope of the PoC doesn't include network and major client-related work."
Leaving "devnets" behind
According to Ethereum 2.0's roadmap, the two blockchains are expected to merge in Phase 1.5.
Once this phase is completed, the Ethereum that we all know will run as a single shard of the newly formed 64-shard network.

Phase 0 (the first phase of the much-anticipated upgrade) is expected to go live this year, but researcher Justin Drake recently revealed that it might not launch until early 2021.
As reported by CryptoComes, developer Danny Ryan announced the "official" testnet called "Medalla" earlier this week.
This is the latest in the list of all testnets that were launched earlier this year:
Sapphire;

Schlesi;

Witti;

Altona.
Unlike Altona (and earlier "devnets"), Medalla is going to be maintained by the community itself.

Big spikes
Ethereum is being plagued by exorbitant gas fees as the network is nearing its maximum capacity. They recently reached more than 2,000 Gwei.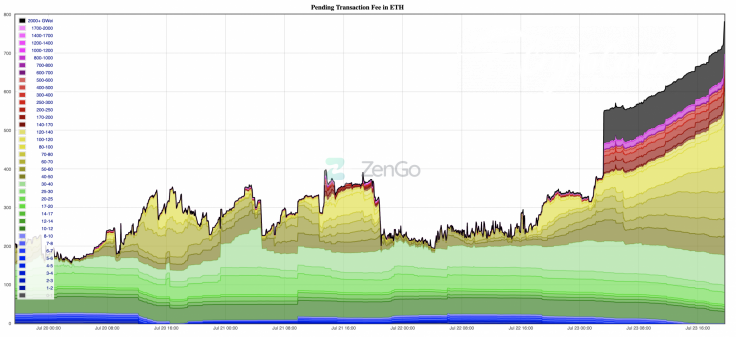 image by @TalBeerySec
Nevertheless, the price of Ethereum is already up 17.6 percent over the last three days, surging closer to its 2020 high on renewed optimism surrounding the looming launch of Ethereum 2.0.

As of now, ETH is the only major asset in the double-digit territory (and the fourth best-performing coin in the CoinMarketCap top 100).