Multi-asset mining pool 2Miners announced that it has reduced block maturation time. What does this mean and why is it necessary?
MESS finally implemented on Ethereum Classic (ETC)
According to the official announcement made by the 2Miners mining pool team in its recent tweet, starting from block 11,380,000, the new security solution MESS goes into effect on the Ethereum Classic (ETC) network.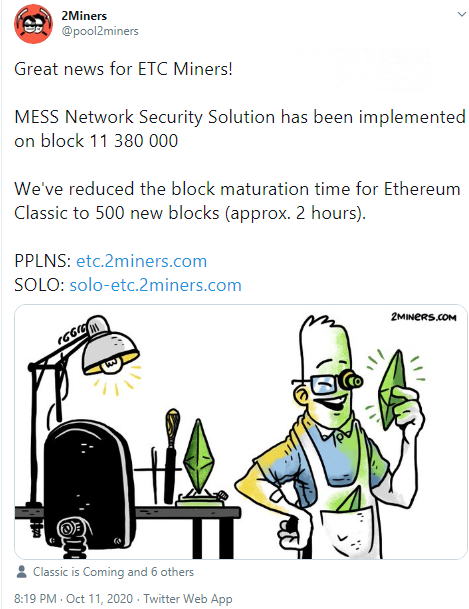 Image via Twitter
With this update activated, 2Miners reduced the block maturation time to 500 new blocks. Given the current Ethereum Classic (ETC) network speed, this interval takes approximately 120 minutes to be mined.
In modern blockchains, block maturation time refers to the time before which newly generated coins become spendable. It is introduced to mitigate the negative effects of a possible chain split.
When the blockchain witnesses an unintended split, it is divided into "long" (typically, legit) and "short" (controlled by an attacker) chains. To prevent miners' rewards from being lost or hijacked, the coinbase tokens are not allowed to be spent immediately.
It is too expensive to attack ETC
Modified Exponential Security Scoring, or MESS, is a new finality algorithm. As covered by CryptoComes previously, it is designed by ETC core developers in collaboration with OpenRelay and ChainSafe cybersecurity experts.
MESS amplifies the "heaviest-chain-wins" principle of blockchain integrity. As a result, the average 51 percent attack on Ethereum Classic (ETC) would cost at least $20 mln, or 3,000 percent, more than it does today.
Ethereum Classic (ETC) decided to introduce a revolutionary security update after a series of devastating 51 percent attacks. In Q3 2020, ETC was targeted by malefactors about twice a week.
The most dramatic of these attacks caused the "unintended reorganization" of 3,000 blocks on the ETC blockchain. Its team was slammed for the lack of security by the crypto community. Some exchanges even terminated ETC withdrawals and deposits.