Weiss Crypto Ratings agency has slammed Ethereum Classic as a failing cryptocurrency that has no reason to exist after two recent 51 percent attacks occurred within just one week.
"ETC shows a testament to a failing cryptocurrency"
Last week, the offspring of Ethereum blockchain, Ethereum Classic (ETC), suffered two consecutive 51 percent attacks, in which a culprit managed to accumulate 51 percent of the mining power and start manipulating the network.
The first attack took place on Aug. 1. The second one followed five days later with the hacker walking away with $5.6 mln in ETC stolen via a double-spend.
Now, the respected Weiss Crypto Ratings agency has bashed ETC devs for this weakness, saying that Ethereum Classic has failed as a cryptocurrency and it has no reason to exist.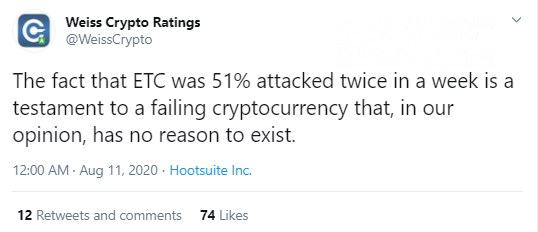 Image via Twitter
ETC devs reject Hoskinson's help, Cardano founder responds
The founder of Cardano and Ethereum co-founder, Charles Hoskinson, has offered to help ETC devs out of the current situation that has thrown into question the project's further existence.
He offered to share the ideas his team came up, including how further 51 percent attacks can be avoided. Hoskinson stated a condition that Ethereum Classic first needs to restore its users' trust and credibility in order to prevent ETC's being delisted from exchanges. KuCoin and Coinfloor have already announced their intention to delist ETC.
However, ETC's leading devs said they do not need a "bailout" from Hoskinson. In response, the Cardano founder held a YouTube live stream nine hours ago.
Hoskinson's ideas on how to revive ETC
In his recent live stream, Hoskinson suggested that the only way for ETC to survive, revive and prosper is to stop the damage by doing two things immediately.
First, ETC devs need to start utilizing a checkpoint system along with their proof of work consensus protocol. Hoskinson's team has recently developed a paper that explains how this can be done to prevent more 51 percent attacks in the future. This would restore the confidence of users and prevent their leaving the ecosystem.
The second thing that the ETC team needs to provide is guaranteed funding for its core developers. Hoskinson suggests that a decentralized treasury system, like Cardano and many other projects set up, would be a good way out.
Overall, the Cardano founder stated that if ETC intends to be a successful project, it requires immediate innovation.