Well-known crypto analyst and investor Josh Rager continues to delight Bitcoin fans with his price predictions. This time, in his Twitter account, he predicted that the main cryptocurrency would break above $11,000 in the near future.
$BTC - 1Day Chart Inverted

From a naked chart perspective, why are people bearish again?

Price closed at resistance & Bitcoin is making the case to break above $11k

IMO, unless there is some time of sharp v-shape reversal (which it could) price likely heads to $11,300's next pic.twitter.com/bAXmfugweG

— Josh Rager 📈 (@Josh_Rager) August 4, 2019
Definitely no bearish!
He also expressed misunderstanding about the bearish moods of some people, especially if to look on the "naked chart perspective". Based on the 1D charts technical indicators, the price still tends to the mark of $11,300.
$BTC - 1W Chart Inverted

Not much different than the 1D inverted chart

Bitcoin has to break and close the level at $10,831 and lot can happen in the next 24 hours

If successful, there is nothing standing in the way of $11,469 on HTF 1W chart pic.twitter.com/nGCGhYWgrY

— Josh Rager 📈 (@Josh_Rager) August 4, 2019
In his subsequent tweet, Josh gave a bitcoin price forecast based on the weekly graphs. Technical indicators remained almost the same and confirmed the need to break $10,800 mark to gain a foothold above $11,000. Based on this analysis, the goal is a mark of $11,469.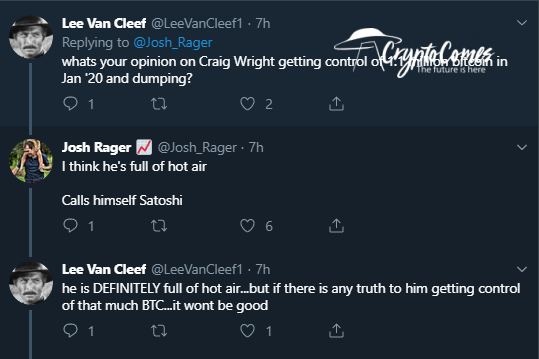 Image by Twitter
One of the followers inquired about Josh's opinion about the possibility of Craig Wright getting 1.1 million Bitcoins, as well as the prospects for dumping on his part. Rager replied that Wright is "full of hot air" and simply calls himself Satoshi, nothing more.