Chainlink (LINK), the token behind the eponymous decentralized oracle network, has overtaken Bitcoin in terms of trading volume on Binance for the first time, on Aug. 9.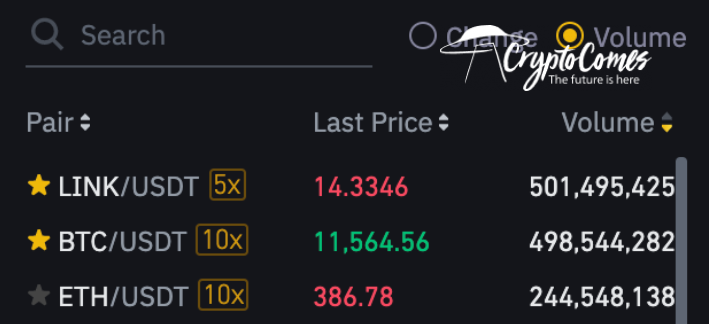 Image by /r/CryptoCurrency
The token went on to extend its startling rally, surging to a new all-time high of $14.45 on the Binance exchange due to a massive short squeeze.
A quiet day for Bitcoin, a crazy day for LINK
In addition to Binance, LINK's trading volume also snatched first place from Bitcoin on the Coinbase Pro exchange.
LINK pumped by 45 percent in only 48 hours before retracing to $12.52 on Aug. 10, then surging back to $13.69. It is up a staggering 528 percent on the year-over-year basis.
It is worth noting that Chainlink has only a fraction of Bitcoin's global trading volume tracked by CoinMarketCap ($22.081 bln and $3.028 bln). On top of that, the king's performance was rather subdued yesterday, which allowed LINK to surpass it on other exchanges.
Back in May 2017, Ethereum overtook Bitcoin by total trading volume during the ICO frenzy.


LINK remains on everyone's lips
This enormous trading interest comes amid the decentralized finance (DeFi) bonanza that is sweeping the cryptocurrency market.

Bolstered by a cult-like following ("LINK Marines") and a plethora of partners who have made Chainlink's oracles the industry standard, LINK is shaping up to be one of the best-performing coins of 2020.

With a market cap of $4.75 bln, it has already surpassed Bitcoin SV (BSV) and Litecoin (LTC) on CMC.

To some, however, this level of euphoria seems reminiscent of a bubble, and every bubble eventually bursts.