BTC.com, a mining pool owned by Bitmain, saw a whopping 43 percent increase in computing power overnight.

With 21,330 petahashes per second (PH/s), it shot up to first place for the first time in 2020, outstripping rival F2Pool and Poolin.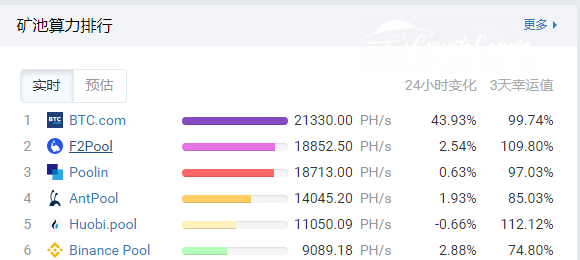 Image by @WuBlockchain
Mining pools are fighting for dominance
Bitcoin mining aggregate hashpower is jointly solving complex mathematical problems in order to find new blocks.

Each miner who joins a pool will end up getting a chunk of the 6.25 BTC block reward on a pay-per-share (PPS) basis, meaning that it is proportional to their contribution.

Poolin, an upstart mining pool that was founded by former Bitmain employees in November 2017, ended up racing to first place in September 2019. It was later taken to court by the mining giant for allegedly breaching its non-compete contract.

According to mining industry observer Colin Wu, the overnight revival of BTC.com is linked to Bitmain's major customer:
Recently, Bitmain has received many orders exceeding 100 million yuan. If the subsequent S19 series can be shipped smoothly, it is expected that the power of the two major mining pools of BITMAIN will continue to grow.
As reported by CryptoComes, Bitmain, Canaan Creative, MicroBT and other major mining companies are now receiving more large-scale orders while recovering from the ongoing crisis.
Bitmain's tight grip on the industry
Bitmain's winning back first place serves as an ominous reminder of the centralization of Bitcoin mining.

In 2018, the pools owned by the Beijing-based mining manufacturer achieved the lion's share of Bitcoin's global hashrate, a grim milestone that could theoretically allow Bitmain to pull off a 51 attack and take over the network.

Overall, China still controls close to 65 percent of Bitcoin's total hashpower—despite the country's hostility toward the cryptocurrency.