After recent periodic adjustment of Bitcoin's (BTC) mining difficulty, its level has broken above its previous all-time high mark. Is the "death spiral" narrative finally dead?
New all-time high for Bitcoin (BTC) difficulty
Today, Aug. 24, Bitcoin's (BTC) network difficulty (also called "mining difficulty") was adjusted again. It has increased 3.6% to the unmatched level of 17,557,993,035,167 hashes. In July, Bitcoin (BTC) network difficulty had been about 17.34 TH, but then it declined to 16.84 TH.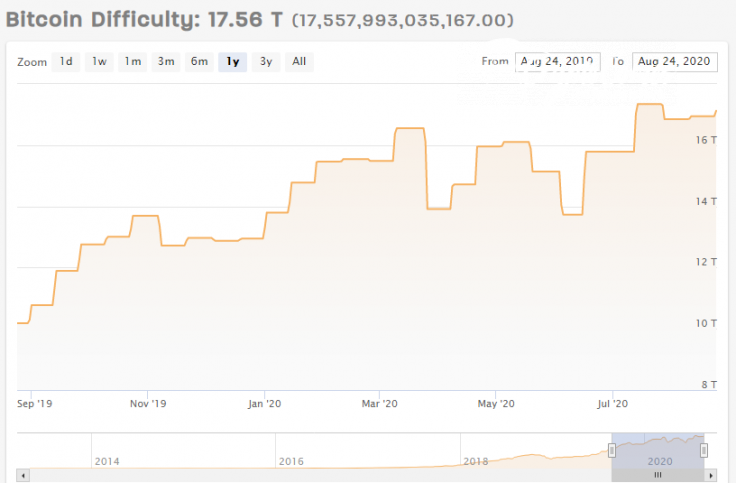 Image by Coinwarz
Bitcoin's (BTC) difficulty indicator is used to determine how many hashes should be found (disclosed) by all Bitcoin (BTC) miners' equipment to add one new block to the network. Thus, this metric showcases the activity of miners and their interest in participation in this sophisticated process.
Bitcoin (BTC) mining difficulty is adjusted periodically (after every 2016 blocks, or approximately every fortnight) to keep the Bitcoin (BTC) block interval equal during the entire process of mining (about 10 minutes).
Thus, Bitcoin (BTC) network's difficulty surged almost 27.8% in two months. In addition, it is up 28.2% from the local highs of Q4, 2019.
Bitcoin (BTC) miners are moderately optimistic
However, this increase does not look sharp. For instance, Bitcoin (BTC) network difficulty gained 14.95% after the adjustment that took place on June 26, 2020. Further, this metric was adjusted heavily amidst the 2019 short-term bullish run—by 14.23%.
The most dramatic drop was showcased by a king coin mining difficulty shortly after bloody Black Thursday of March 2020. This metric declined by almost 16% and barely managed to stay above 2019 lows.
Typically, the increased network metrics (both mining difficulty and net hash-rate) are interpreted as indicators of miners' enthusiasm. They are most likely adding new mining facilities to the network in search of higher rewards.
New #bitcoin difficulty record 17.6T .. miners are bullish! 🚀 pic.twitter.com/nIKOpWJyyS

— PlanB (@100trillionUSD) August 24, 2020
This optimism was underlined by famous analyst and researcher PlanB, author of the uber-bullish "stock-to-flow" Bitcoin (BTC) price model.