According to a screenshot of an anon 4chan user, Bitcoin should have reached the $29,000 in February 2020, an anonymous Twitter user reminds to the community.
This July, as per the screenshot, Bitcoin is bound to hit $56,000 and then collapse to $87 in November.
However, a major trader from TradingView, says that a decline in price is likely despite the bullish news background.
Is Bitcoin heading for $56,000 this month?
An anonymous Bitcoin enthusiast and trader 'Mr. Anderson' has reminded the Crypto Twitter of the screenshot that has been circulating on the web for a few years.
On it, an anonymous 4chan user predicts the price marks that Bitcoin was and is still assumed to reach, covering three time marks in 2019 and three in 2020 – February, July and November.
The screenshot says that in February Bitcoin was supposed to hit $29,000. November is expected to bring on a BTC collapse to $87 and in July Bitcoin is supposed to surge to a $56,000 all-time high.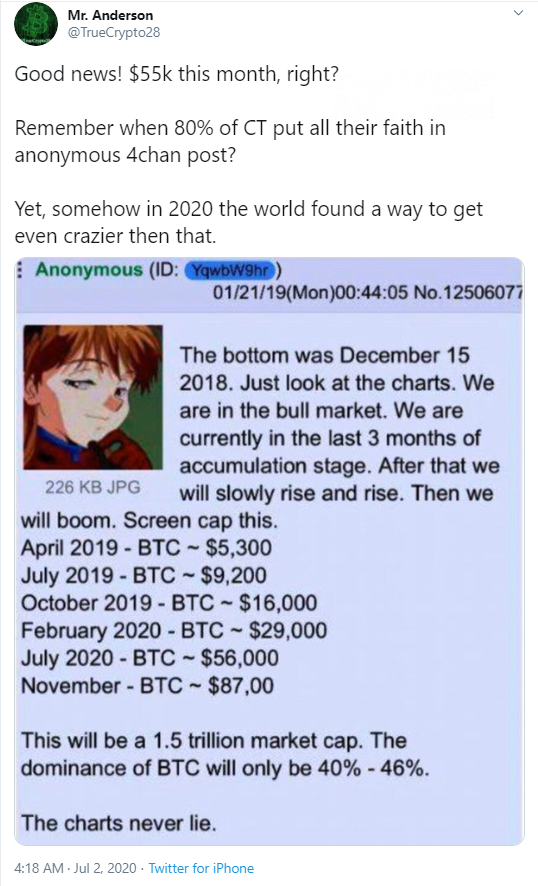 Image via Twitter
Since the Bitcoin supply cut that took place on May 11, when BTC was trading in the $8,700 zone, the price has only once managed to surface above $10,000 on June 2.
Since then, the king crypto has dropped from the $9,800 area and after briefly falling below $9,000 been moving within a range between $9,000 and $9,300.
Judging by the comments in the thread, users find this forecast highly improbable.
'Bitcoin is in a Wyckoff distribution phase'
Anonymous user 'EXCAVO' from TradingView believes that despite all the bullish Bitcoin fundamentals, such as data from Skew, Glassnode, Pantera Capital, DeFi, massive Grayscale purchases of Bitcoin, etc, BTC now has entered the Wyckoff distribution phase, in which the smart money are going to start taking their profits off the table and the Bitcoin price to begin declining.
"So ... we wait for a new bottom and "sales" on the cryptocurrency market, the news background is ready.
Although for me, we are now witnessing the Wyckoff distribution phase."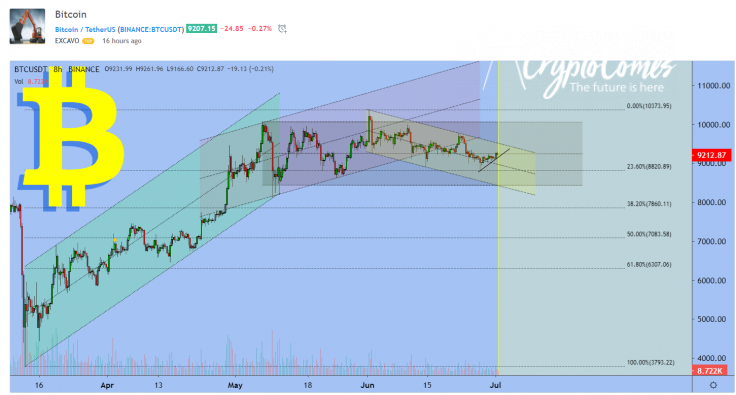 Image via TradingView