A renowned trader and analyst Josh Rager has shared his recent video analysis of Bitcoin, Ethereum and other coins, where he explains why the next Bitcoin high peak would be $60,000-$80,000.
Standing against $190,000 per BTC linked to the predicted S&P 500 surge
Josh Rager referred to the earlier tweet of the prominent analyst Plan B, in which the latter posted the news about the recent forecast for the S&P 500 index to surge to $4,000.
Plan B linked the growth of S&P 500 and Bitcoin together and assumed that in one year the BTC price would hit an ATH of a staggering $190,000.
Josh Rager disagreed with that, offering his arguments for a lower BTC peak high.
'Bitcoin likely to hit $60,000-$80,000'
The trader stated that for Plan B's forecast to come true and Bitcoin to hit $190,000 along with the growth of S&P 500, BTC should put up a 69 percent growth for every 1 percent rise of S&P within the next twelve months.
So far, this ratio has been 4 percent for Bitcoin versus 1 percent for the S&P 500 In his view, a jump from 4 percent to 69 percent in such a short term does not sound probable.
Rager's calculations are built on the fact that since the Black Thursday on March 12, the S&P rose 47 percent while Bitcoin showed a 190 percent growth.
The trader believes that a more realistic scenario is that Bitcoin is likely to reach a peak high of $60,000-$80,000, which is twice as less than what Plan B offered but is still good compared to the 2017 ATH and the current Bitcoin price.
Josh Rager added that each new Bitcoin cycle offers lower returns.
During the Twitter discussion under his post, Plan B responded to Rager, saying that Bitcoin gains can show a massive take off a couple of months, saying that this model fits the one which Bitcoin has followed over the past ten years.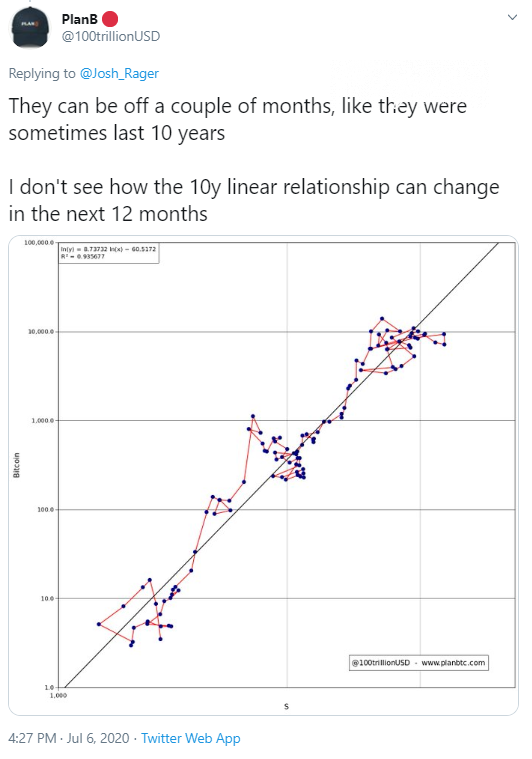 Image via Twitter