Crypto analyst Joseph Young believes that the approaching weekend may be quite interesting for the price of the most popular cryptocurrency – Bitcoin. Here's why.
Three key factors playing out this week
The analyst named the following factors that support his assumption: the massive expiry of Bitcoin options today on Deribit (worth $675 mln), the fact that it happened after BTC plunged around seven percent two days ago and briefly touched a level under $9,000.
The third reason per Joseph Young is that at the weekends, trading volumes are low as a rule, so assets can show an intense price action.
Prominent analyst Michael van de Poppe asked for Joseph's verdict if he expects Bitcoin to go up or down in the end.
The author of the tweet did not respond, but major analyst and the founder of Quantum Economics newsletter, Mati Greenspan, shared his take.
Speaking from the past experience, Mr Greenspan said that BTC should be trading sideways, however, he pointed out that it is not doing so.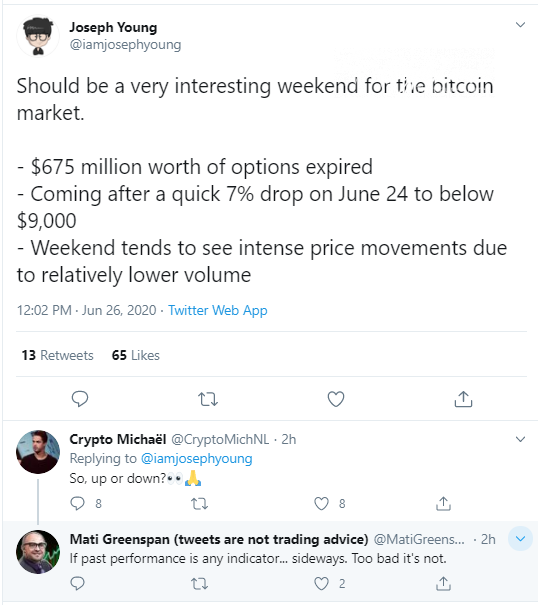 Image via @iamjosephyoung
No big volatility jumps expected
According to analyst Michael van de Poppe, however, expiration of futures or options will hardly cause any large waves of volatility since traders will simply move on to new contracts.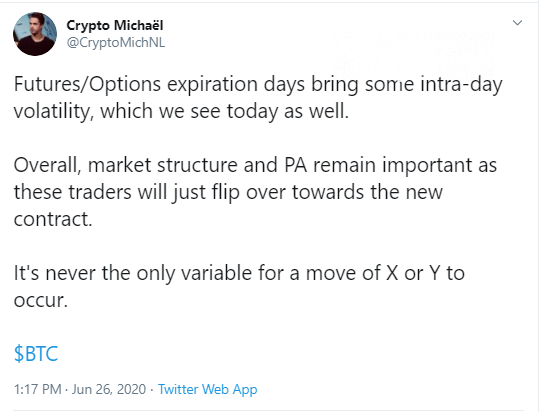 Image via @CryptoMichNL