The Bitcoin price is firmly sitting above the $10,000 level after spiking by 7 percent in practically no time during US trading hours. This came shortly after a sharp drop to the sub-$9000 level.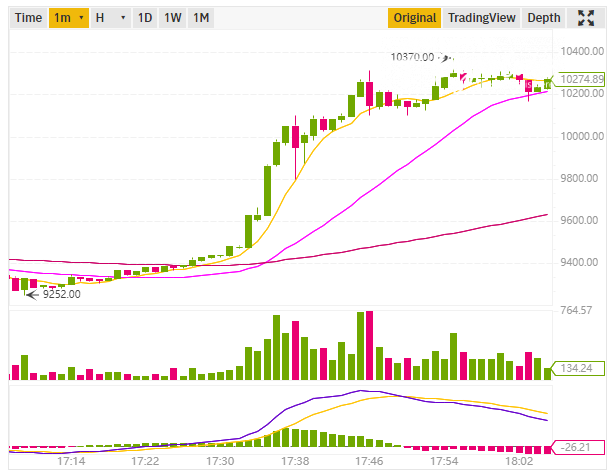 image by binance.com
The bulls have woken up
At 2:07 PM UTC Bitcoin was trading in the $9,200 region, which was perceived as a precursor to a possible drop to $8,000. Hence, the bears were emboldened to short BTC due to poor technical fundamentals (Bitcoin's MACD histogram has dipped zero for the first time year).

However, there was a major plot twist in the pipeline. At 2:37 PM UTC, the BTC price was already well above $10,000 after adding almost $1,000 in ten minutes.

That was one of the biggest pumps that traders could witness on a 1M chart this year. On Apr. 2, the BTC price suddenly went up 20 percent in less than an hour, which finally pushed it above $5,000 and kicked off its 200 percent rally.
More challenges ahead
As Coindesk's Omkar Godbole points out, Bitcoin has to surge above $11,080 in order to confirm a bullish reversal. It's too early for the bulls to celebrate since they have to prove that this recent spike was more than a flash in the pan.

As of now, they can enjoy the fireworks. The Twitter bot that monitors liquidations on BitMEX, the number one exchange for crypto derivatives trading, has been on fire for the last hour.
Liquidated short on XBTUSD: Buy 2,949,761 @ 10147 💯💯💯💯💯💯💯💯💯💯💯💯💯💯💯💯💯💯💯💯💯💯💯💯💯💯💯💯💯🔥 ~ BEYOND GODLIKE x15 ~ Directed by M. Night Shyamalan

— REKT (@BitmexRekt) July 18, 2019