MicroBT Whatsminer M30S++, Antminer T19, and AvalonMiner 1146 Pro excel in the efficiency department.
According to a recent report published by cryptocurrency analytics platform TokenInsight, the flagship ASIC miners that were released in the first half of 2020 are significantly more efficient than those that were introduced last in Q4 2019.

While their hash rate saw a 17.9 increase, their power consumption dropped by 11 percent.
ASIC miners are nearing their limit
MicroBT Whatsminer M30S++, MicroBT Whatsminer M30S+, Antminer T19, and AvalonMiner 1146 Pro are currently the top mining machines offered by MicroBT, Bitmain, and NASDAQ-listed Canaan Creative, respectively.
With an eye-popping price tag of $3,900, Whatsminer M30S++ boasts 112 Th/s. The most powerful ASIC to date, which will be shipped in October, would be capable of earning $4.03 as of today.
Bitmain was the most prolific manufacturer based on the number of new models it has so far launched. Its Antminer T19, which was released, is equipped with 84 TH/s.
While it might seem that the sky is the limit for ASICs, their performance improvement actually shrunk late 2019. As noted by TokenInsight, this signals that Bitcoin machines there is not much space left for improvement.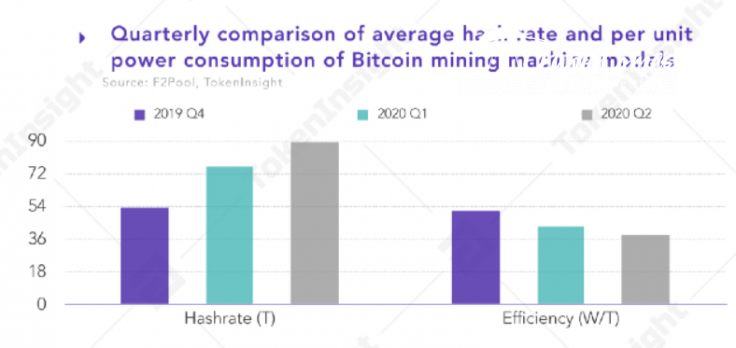 image by medium.com
Bitmain remains at the top
In spite of a bitter civil war between Bitmain's co-founders, the company's mining equipment still accounts for the largest chunk of the total hashrate (27 percent).
MicroBT is breathing down Bitmain's neck with a 17 percent share of the market, followed by Canaan and Ebang. In June, the latter became the second mining company to go public in the U.S.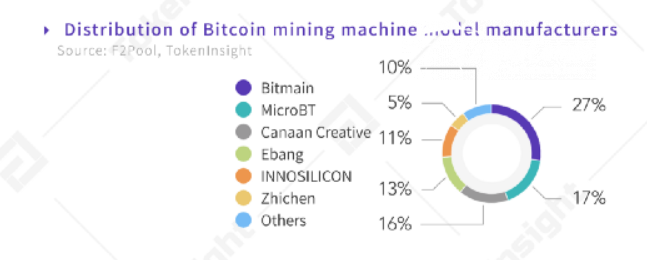 image by medium.com
Despite being hit by the economic downturn and supply chain issues, major mining equipment manufacturers are now receiving more "largest-scale" orders from its customers, according to the report.