Bitcoin (BTC) market capitalization index (BTC.D), which is a ratio of Bitcoin's (BTC) net market cap to that of all recognized altcoins, is ready to revisit 17-week highs. Meanwhile, there is a lot of blood on the altcoin market.
BTC.D eyes June levels
According to charts provided by TradingView analytical dashboard, Bitcoin (BTC) dominance is 63.85% right now and shows no signs of retracement. The last time it was so high was early July of this year. The indicator gained 8.5% in Oct.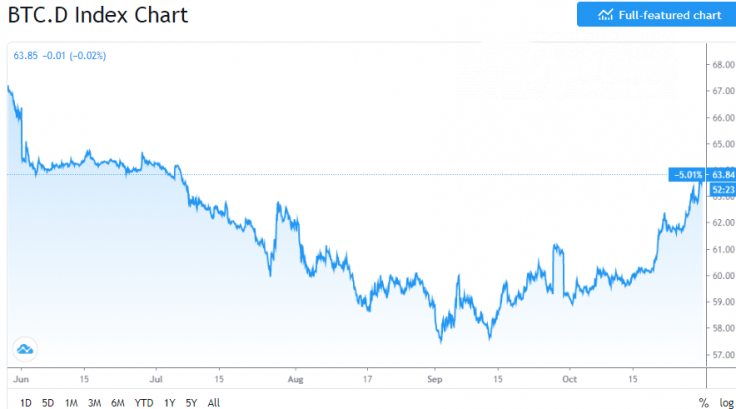 Image by TradingView
Last summer showed no mercy to Bitcoin (BTC) dominance. Even an impressive Bitcoin (BTC) price spike in early August was accompanied by a rally of the altcoins.
On July 25, it dropped below the psychologically crucial level of 60%. As CryptoComes reported, this free fall made even strong Bitcoin (BTC) proponents consider their first ever investments in Ethereum (ETH).
By the end of August, Bitcoin Dominance (BTC.D) plummeted to historical 32-month lows, i.e., to the levels witnessed in January 2018. Ex-Goldman Sachs analyst Kelvin Koh admitted that this drop was backed by string technological and trading fundamentals.
"Winter is coming" for altcoins?
The last few days brought a lot of bad news for altcoin holders. According to Coingecko's main dashboard, today all of the Top 10 altcoins by market capitalization are in the red zone on both the 1-day and 7-day time frames.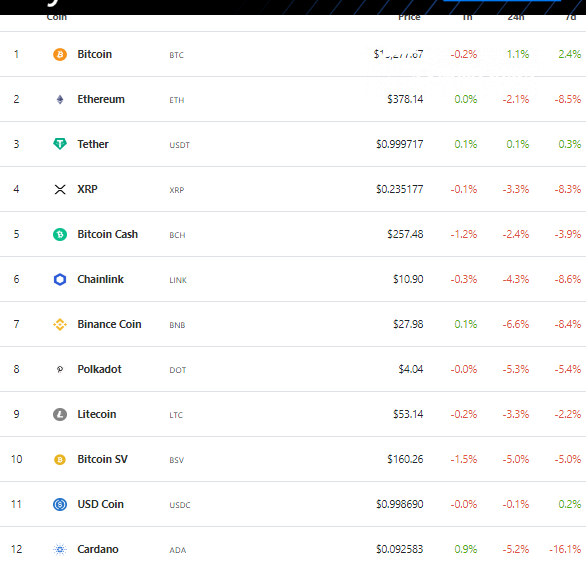 Image by CoinGecko
Cardano (ADA) is suffering most as it is down 16.1% in the last week. Chainlink (LINK) and Ethereum (ETH) also witnessed significant losses in the last week of October.
The situation on decentralized finance markets looks even more painful. Top-notch analytical team Messari shared a snapshot of the ongoing carnage in its recent tweet.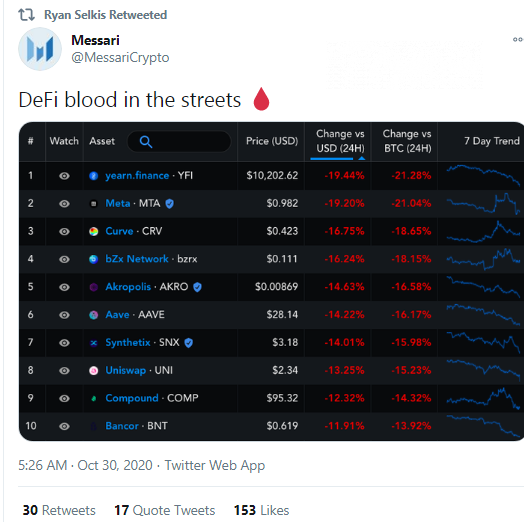 Image via Twitter
The most overhyped flagship assets of the DeFi run, Yearn.Finance (YFI), Aave (AAVE, previously LEND), Uniswap (UNI) and Compound (COMP), showcase double-digit losses overnight.