ThorChain (RUNE), the project tasked with building a decentralized cross-chain liquidity ecosystem, announces that its first ever liquidity pool with native Bitcoins (BTC) is live in beta testnet. Moreover, all developers are invited to try it by forking the open-source ThorChain code.
Bringing real Bitcoin (BTC) to DeFi
According to an official announcement by the team, ThorChain has added Bitcoin (BTC) liquidity pools to its decentralized exchange AsgarDEX. This is an unusual experiment since, typically, DeFis onboard Ethereum- or Tron-based Bitcoin (BTC) synthetics.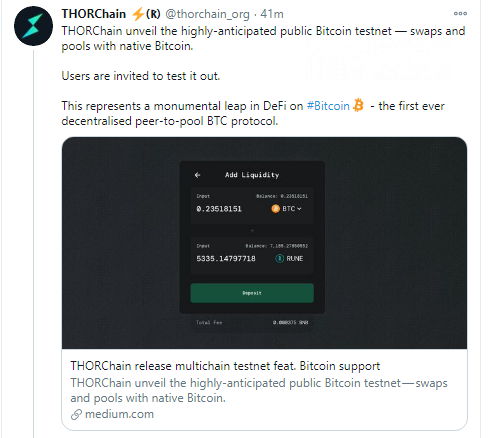 Image via Twitter
The team stresses that it is the first ever "peer-to-pool" experience with Layer 1 Bitcoins (BTC) in the entire history of decentralized finances. The testers can also exchange Bitcoin (BTC) for RUNE, a native asset of Thorchain in a completely decentralized peer-to-peer manner.
The new multi-chain testnet that merges Bitcoin (BTC) and Binance Coin (BNB) liquidity is dubbed #MCTN1. tRune assets are used to simulate exchange and liquidity provision with Bitcoin (BTC).
Thus, the new Thorchain release is the pioneering experience of the direct interaction between the Bitcoin (BTC) network and Binance Chain implemented in Thorchain's Chaosnet ecosystem.
Demand for Bitcoin (BTC) liquidity is on fire
Besides implementing Bitcoin (BTC) swaps and pools in the testnet, the new version of Thorchain software reconsiders Midgard, the product's API, and updates the AsgarDEX community interface.
This achievement is important for DeFi since Bitcoin (BTC) remains the most liquid digital currency. Meanwhile, the majority of DeFi protocols are built on programmatic networks like Ethereum, Eos and Tron and, therefore, are unable to interact with Bitcoin (BTC) directly.
This problem is solved with "wrapped Bitcoins," BTC-pegged synthetic assets (actually, IoUs) minted on corresponding chains. The most popular solution here is Ethereum-based Wrapped Bitcoin (WBTC). As covered by CryptoComes previously, in Q3, 2020, the number of WBTC surpassed 100,000 for the first time.
Also, Tron-based Bitcoin synthetics were released in partnership with the BitGo payment operator on Sept. 24 as TRC-20 tokens.