Former Bitrefill CCO John Carvalho has drawn ire from Bitcoin Cash proponents after tweeting his support for the ban of the r/btc subreddit.

In response to a now-deleted post about the alleged danger posed by the community, Carvalho accused Roger Ver, one of BCH's most vocal advocates, of 'scamming' users into buying the largest Bitcoin fork.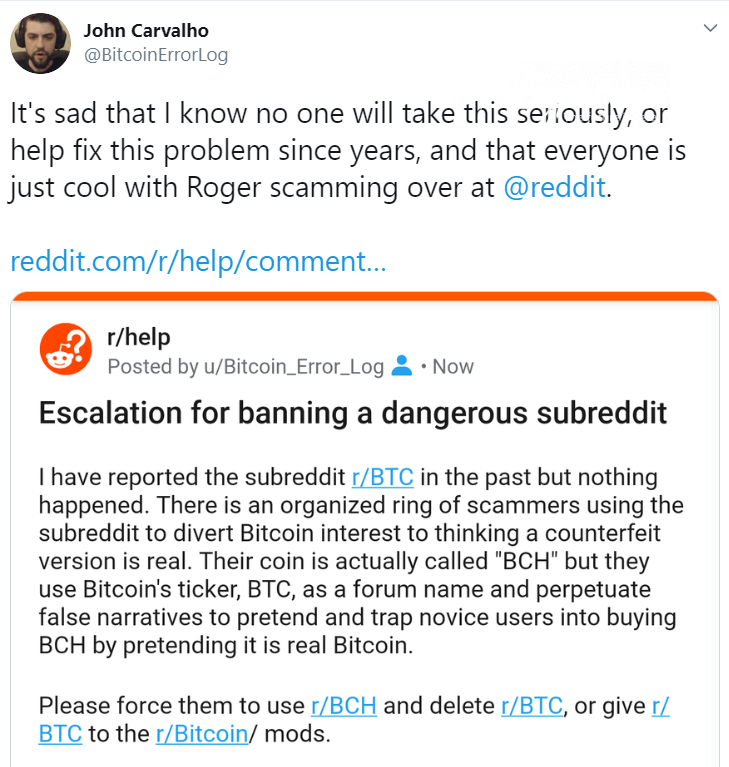 image by @BitcoinErrorLog
The long-lasting civil war
With 301,00 subscribers, r/btc is one of the largest cryptocurrency subreddits on Reddit.

It exists alongside r/Bitcoin (1.4 mln subscribers) and r/Cryptocurrency (1 mln). Back in May, the former got its own Ethereum-based community token called 'MOON.'
Unlike r/Bitcoin, r/btc is mainly devoted to promoting the BCH fork that was created back in August 2017 due to the long-standing scaling debate.

Many Bitcoiners take issue with the fact that the subreddit uses Bitcoin's ticker, which they claim could trick uninitiated crypto buyers into thinking that they are dealing with the actual Bitcoin, not its version created by big-block dissidents.

The other camp claims that Bitcoin Core supporters now want to ban its Reddit forum after taking over the pro-Ver Bitcoin Twitter handle last August to make sure that the fork will not succeed.

image by reddit.com/r/btc/
Reddit purges The_Donald
On June 29, Reddit banned more than 2,000 communities to make its platform a safer space for all users.
r/The_Donald, which was the most popular Trump subreddits with 800,000 followers, was its biggest kill that sparked plenty of discussions about free speech and the overreach of social media.