Bitcoin (BTC) has printed one ATH after another for several days in a row. CryptoComes has some facts that show how splendid Bitcoin's (BTC) supremacy is right now.
1 Bitcoin = 1 Tesla (Not TSLA!)
Documenting Bitcoin, a Twitter account that commemorates interesting and impressive milestones in the life of the flagship cryptocurrency, has noted that, now, some new models of Tesla's electric vehicle cost less than one Bitcoin (BTC).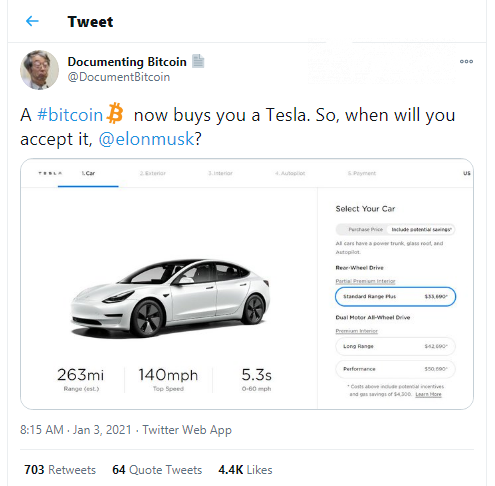 Image via Twitter
While the splendid run of the Bitcoin (BTC) price pushed it above $34,000 for the first time ever, the new Tesla Model 3 in the Standard Range Plus pack costs $33,690.
At the same time, the net market capitalization of Bitcoin (BTC) began surpassing the total value of the currency supply of some large countries. According to the calculations of Documenting Bitcoin, the king coin is now the 17th currency in the world by market capitalization.
That said, Bitcoin (BTC) has already surpassed the Saudi Riyal and is on its way to leaving the Mexican Peso in the dust.
Be your own bank
Gabor Gurbacs, VanEck's digital asset director, has shared the comparison of net capitalizations of the world's top-tier banks. According to his tweet, Bitcoin's (BTC) market cap is far greater than that of any competitor.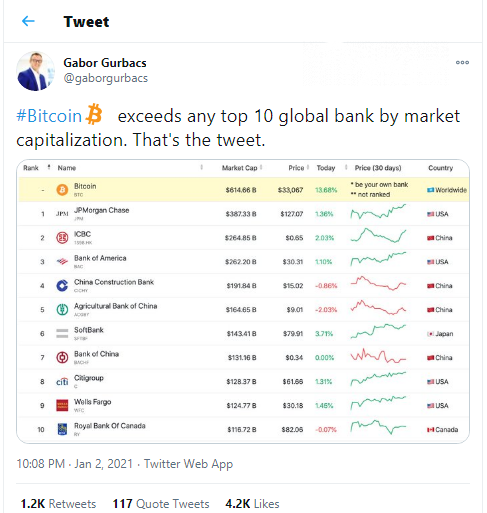 Image via Twitter
Bitcoin's closest competitor, U.S.-based JP Morgan Chase, is worth 37 percent less. The most expensive Chinese banking giant, ICBC, has a capitalization 60 percent less impressive than Bitcoin's.
Recently, Bitcoin (BTC) became the world's most valued payment system, surpassing all centralized competitors including PayPal. It is interesting because some top payment mechanisms allow for operations with Bitcoin (BTC).