According to various predictions, Bitcoin (BTC) may be on the verge of an explosive upmove. The author of the "Hash Ribbons" indicator announced that it has been confirmed today, July 13, 2020.
A retrace before "moon" or another false start?
Charles Edwards of Capriole Investments has just reported his confirmation of a crucial signal. Bitcoin (BTC) hashrate indicates that miners' capitulation may be over.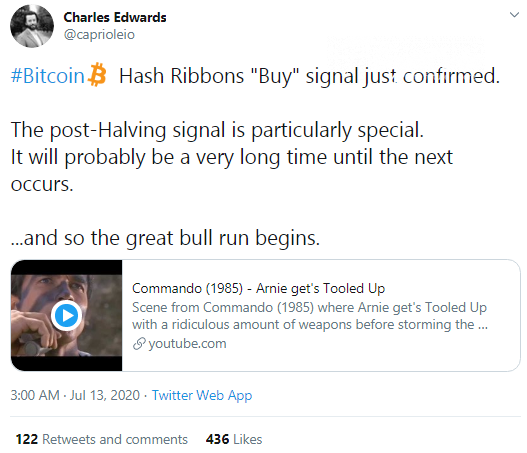 Image via Twitter
He also claimed that this particular signal is special. It is the first "Hash Ribbons Buy" that flashed in the fourth Bitcoin (BTC) epoch. Hashrate statistics showcase that it may take a very long time before the next such signal.
This interesting signal, designed by Mr. Edwards, refers to a crossover of hashrate moving averages. The "Buy" indicator flashes once 1M SMA of the Bitcoin (BTC) hashrate crosses over 2M SMA. It showcases that the overwhelming sentiment of miners is turning bullish.
However, the upcoming rally of Bitcoin (BTC) may be preceded by a short retrace. Typically, the downmove does not exceed 6-9% and takes 15 days only, an analyst added.
Still in disbelief
Despite this unique bullish indicator being confirmed after a long wait, the Bitcoin (BTC) market is still in a disbelief phase. This phase follows a period of long-term market depression and has been shared in a tweet by seasoned cryptocurrencies analyst and trader Michael van de Poppe.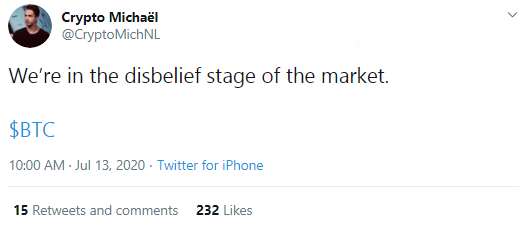 Image via Twitter
According to long-term trading sentiment patterns, the "disbelief" stage is replaced by "hope," followed by "optimism" that, in turn, triggers the price's bullish run.
As covered by Cryptocomes previously, the overall sentiment of Bitcoin (BTC) holders is very far from positive. Even the most enthusiastic community—followers of uber-bullish analyst PlanB—are sure that Bitcoin (BTC) will not reach target levels of his "Stock-to-flow" model.
Recent poll results show that, despite PlanB itself foreseeing Bitcoin (BTC) reaching the six-digit zone in this cycle, more than half of its followers doubt those estimations.