During an Aug. 14 interview with Bloomberg, Galaxy Digital CEO Mike Novogratz voiced caution over the decentralized finance fever that is taking over the Ethereum network:
"Decentralized finance, i.e. finance that doesn't need a central figure, is booming all of a sudden. [...] Be very careful."
Apart from Bitcoin, each altcoin, is in a so-called "venture stage," according to the former hedge fund manager, but he does acknowledge that there is a lot of talent involved:
"There's a lot of excitement in the space right now. There is a tremendous amount of talented people in it. You know, the human capital spends most of its time in and around the Ethereum blockchain, and programmers are building on that. Bitcoin is almost a finished system."
Vitalik Butein is on the same page
The total value locked in DeFi projects has now surpassed $5.57 bln, data provided by DeFi Pulse shows.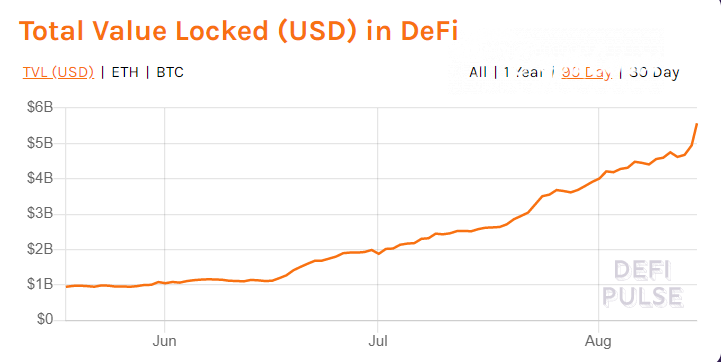 image by defipulse.com
Ethereum investors are willing to shell out exuberant fees to participate in the thriving ecosystem, pushing them to a lifetime high earlier this week.
However, the recent implosion of Yam Finance, the experimental farming project that was shut down within one day, exposes the fragility of the system.

Vitalik Buterin, the 26-year-old founder of Ethereum, recently opined that even the future of top DeFi projects such as lending protocol Compound remains quite uncertain:
"It's hard for something like Compound to claim that it has a 98 percent chance of surviving a year when the thing has been running for a year."
Other projects jump on the DeFi bandwagon
While Ethereum is struggling to scale its blockchain after the proof-of-stake upgrade has been delayed numerous times, rivaling projects are vying to steal its DeFi crown.

Block.one CEO Brendan Blumer recently took to Twitter to make a loud statement about EOS unleashing DeFi.
EOS has so far failed to catch up with the ongoing altseason, but Blumer says that "hype is cyclical":
"Hype is often cyclical, but there is more real innovation building on #EOS than any other ecosystem... and it is just getting started."