Data from the CoinMarketCap platform shows that the majority of the altcoins on the top-ten list have been demonstrating an upward move, as the market has turned green.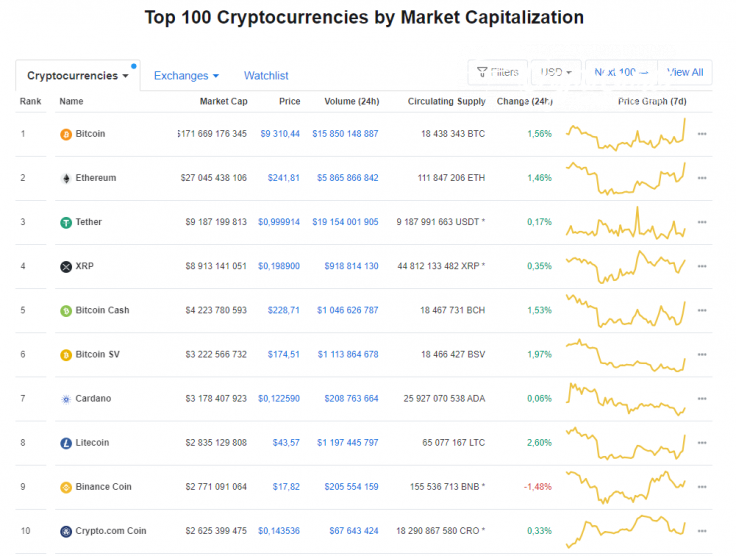 Image via CoinMarketCap
Top 10 are rising, while LINK and DOGE are in decline
The coins that have shown the biggest rise so far are Bitcoin Cash (BCH), Bitcoin SV (BSV) and the "digital silver" Litecoin (LTC). So far, they have not added more than 3 percent, however.
Curiously, the recent price champions and "newsmakers"—Chainlink (LINK) and Dogecoin (DOGE)—are in the red together with a great deal of other coins. DOGE has shown a decline of 3.19 percent, while LINK has dropped 6.26 percent.
DOGE has recently made a few pumps, first surging one hundred percent in twenty-four hours after the viral videos hit TikTok.
The other pump was 20 percent and it happened when Tesla CEO Elon Musk mentioned it over the weekend a few times in his tweets.
CZ confirms the altseason
As covered by CryptoComes earlier, the chief of Binance, CZ, told Bloomberg in a recent interview that he believes the season of altcoins has been here for a while already.
CZ mentioned that recently sixty percent of the trading volume on Binance Futures has come from altcoins. Besides, out of around three hundred coins listed on Binance, only a few went down in price.
He did not offer any exact reasons for altcoins being on a rise at the moment, but he admitted that Elon Musk's recent tweets could have pumped the DOGE price.
Litecoin and Bitcoin Cash surging in price
On Monday, it was also reported that Grayscale Investments fund received official permission from the FINRA regulator to trade crypto derivatives based on BCH and LTC.