Journalist Colin Wu, an unparalleled expert in the Chinese blockchain segment, has confirmed that Bitmain sold 10,000 of its flagship BTC ASIC-miners (Antminer S19 Pro) to a publicly listed U.S. company.
Corporations go all in as Bitcoin (BTC) rockets
In his recent tweet, Wu shared that 10,000 high performance Bitcoin (BTC) mining rigs by Bitmain have been purchased by the largest mining company in North America, Marathon Patent Group, Inc. (NASDAQ:MARA).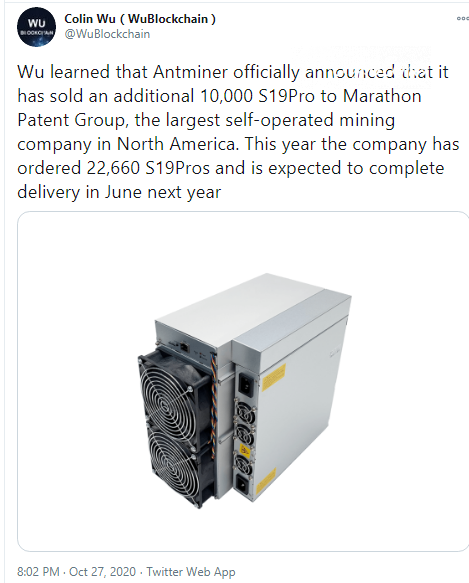 Image via Twitter
This impressive purchase brings the total amount of the deal between Bitmain and Marathon to 22,660 Antminer S19 Pros. Marathon expects ASICs to be shipped in June 2021.
Previously, information about this purchase was released by Marathon. The company unveiled that, at the moment, it operates only 2,650 miners, so its net hashrate will gain almost 1,000 percent by Q3, 2021.
Given the actual performance characteristics of Bitmain Antminer S19 Pro, the total hashrate operated by Marathon will surpass 2.56 Eh/s. It should be noted that the net aggregated hashrate of the entire Bitcoin (BTC) blockchain is 130 Eh/s, according to the latest calculations.
Top mining gear producers are neck and neck when it comes to flagship ASICs
The mining gear model purchased by Marathon—Antminer S19 Pro—is the most powerful Bitcoin (BTC) ASIC miner ever. As covered by CryptoComes previously, it demonstrates a jaw-dropping hashrate of 110 TH/s. However, its energy efficiency is challenged by Whatsminer M50S by MicroBT.
Whatsminer M50S has an energy efficiency ratio of 30 Joules per one tln hashes while Antminer S19 Pro consumes 34.5 J/Th.
While the precise sum of the deal has not been disclosed by either side, one Antminer S19 Pro in Europe costs $2,400-$2,500 with shipping expected in Q2, 2021. Thus, Marathon joined the club of companies that have invested eight-digit sums in starting a Bitcoin (BTC) FOMO run.
MARA stocks on NASDAQ spiked 8.66 percent since the first details of its ASIC purchase became known. At press time, they are changing hands at 2.76 USD, up 36.6 percent in the last month.