July 5 has started with a slight decrease of top coins; however, it is applied only in correlation to the US dollar. Making price analysis against Bitcoin, the situation is different – all top 10 coins are in the green zone. The biggest gainer is Binance Coin, whose rate has increased by more than 5% over the last day, while the price of Ripple has gone up only by 0.4%, showing the least growth.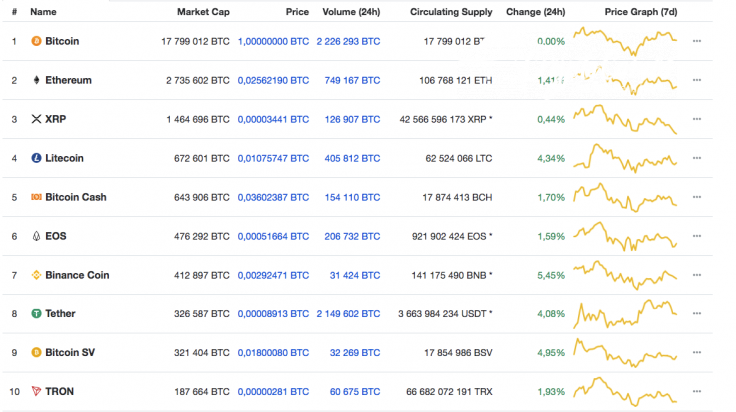 Top 10 coins by CoinMarketCap
Now, it is too early to talk about an altcoin revival, as almost all coins are still far away from their maximum levels. What is more, Bitcoin dominance index keeps increasing and now constitutes 62.4%. The current growth of altcoins is temporary, against the Bitcoin price drop, rather than the start of a new uptrend.
LTC/BTC
While "digital silver" is stagnating in correlation to the US dollar, it is showing about a 4% rise against BTC.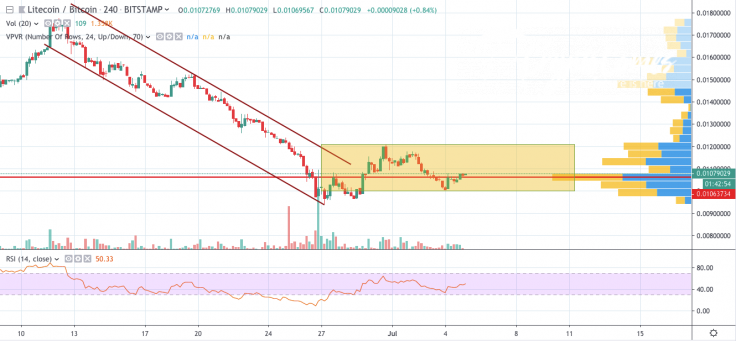 LTC/BTC chart by TradingView
On the 4-hour chart, the quotes were declining for around 2 weeks; however, bulls have not seized the initiative so fast. The nearest forecast is a consolidation in the orange corridor 0.01 BTC - 0.012 BTC. The neutral RSI indicator confirms such a prediction.
The price of LTC is trading at 0.0106 BTC at the time of writing.
EOS/BTC
EOS is showing more positive tendencies than Litecoin, even though its rate has increased by 2% over the day.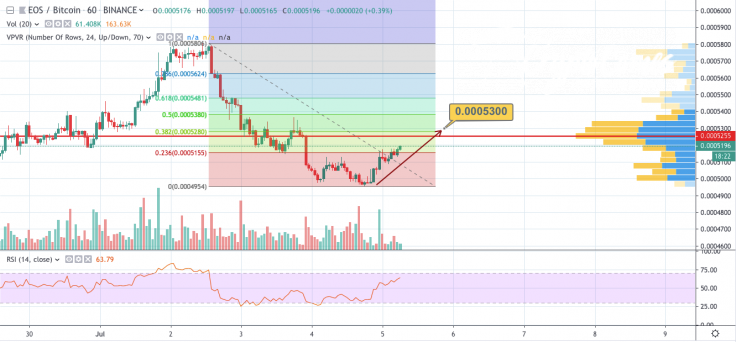 EOS/BTC chart by TradingView
According to the graph, EOS is moving to the nearest resistance at 53,000 satoshi. The Fibonacci retracement is located in the red zone, suggesting the rise to 0.0005380 BTC (50%) in upcoming days. Moreover, the lines of RSI are looking upwards, which means that bulls are still dominating on the market.
The price of EOS is trading at 0.005255 BTC at the time of writing.
TRX/BTC
Even though the quotes of Tron have been trading in the downtrend for some time, the current level is hope for TRX holders that the price might go up.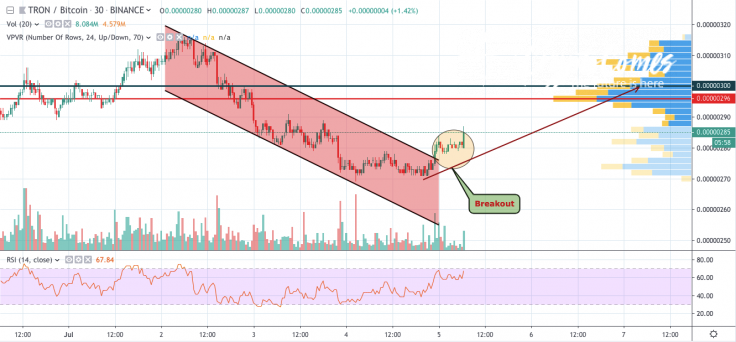 TRX/BTC chart by TradingView
On the 30-min chart, TRX is showing a possible breakout which will be confirmed when the price reaches 300 satoshi. Thus, the relative high trading volume and bullish RSI confirm such scenario.
The price of TRX is trading at 0.00000285 BTC at the time of writing.
ADA/BTC
Cardano is almost copying the price movements of Tron, showing the same 2% growth.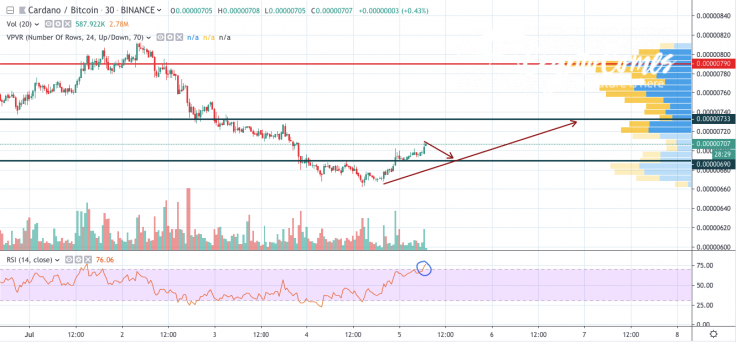 ADA/BTC chart by TradingView
ADA is looking overbought on the hourly chart, suggesting a slight correction to the area of 690 satoshi. However, the general uptrend has not been broken and reaching higher levels in correlation to BTC in just a matter of time.
The price of ADA is trading at 0.00000706 BTC at the time of writing.