According to the latest tweet by Zilliqa (ZIL), all ERC-20 (Ether-based) ZIL tokenholders who missed the opportunity to exchange their bags to mainnet ZIL will have one more chance.
Polishing the bridge between Zilliqa and Ethereum
Zilliqa (ZIL) developers shared some good news for owners of Ethereum-based Zilliqa (ZIL) tokens minted in accordance with the ERC-20 standard. As the project enters another stage of its multi-month migration to mainnet, "old" ZIL tokens can be exchanged for "new" ones through the ZIL-ETH bridge.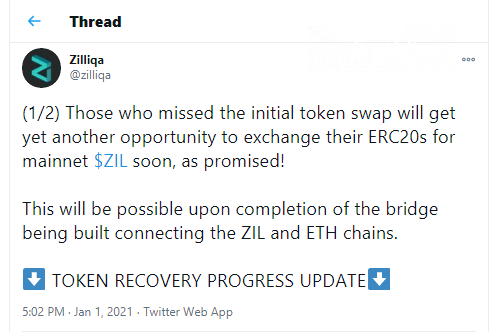 Image via Twitter
"New" ZIL tokens should be referred to as the core native assets of Zilliqa blockchain. This platform was the first one to implement sharding architecture with interconneted sub-chain ("shards") in mainnet.
Meanwhile, the initial version of ZIL belonged to the ERC-20 standard. These tokens were sold during Zilliqa's ICO on the Ethereum (ETH) blockchain.
During the wildest days of crypto's previous bullish rally, Dec. 27, 2017, and Jan. 4, 2018, Zilliqa (ZIL) raised $22 million with the ICO price of ZIL at $0.0038.
What has been achieved so far?
Numerous "Ethereum killers" went through a similar procedure (cross-blockchain swaps), starting with post-ICO Eos (EOS).
The process of bridging Zilliqa and Ethereum is really complicated. Zilliqa devs have shared roadmaps with four milestones accomplished out of nine total.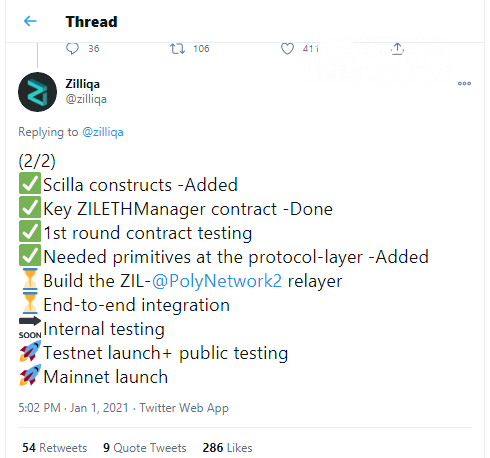 Image via Twitter
At press time, Scilla programming language instruments are live, the manager contract is deployed and tested and required primitives are added to Zilliqa blockchain. As a result, only integrations are left before testing starts.

As covered by CryptoComes previously, Zilliqa (ZIL) released an extremely ambitious roadmap for 2021. According to the roadmap, PolyNetwork integration required for the ZIL-ETH bridge will go live in March 2021.
Also, this year, the Zilliqa platform will be focused on ZilSWAP exchange, governance portal and stablecoins instruments.