ZCash (ZEC), one of the earliest privacy-focused blockchains, is approaching its first halving. Ryan Watkins, research director at top-notch crypto analysis firm Messari, shared a longread about the role and place of this event in ZCash's progress.
Real privacy starts from addresses privacy
To start with, Mr. Watkins emphasized the unique feature of ZCash (ZEC) privacy, i.e., the opportunity to obfuscate addresses involved in transactions.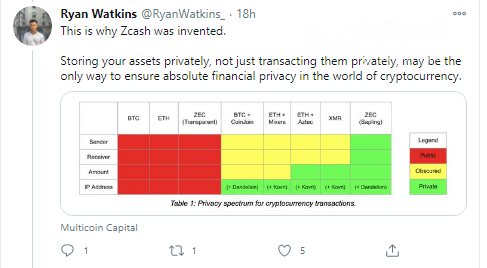 Image via Twitter
Shielded addresses that were implemented in ZCash (ZEC) by the Heartwood update in August allow users to hide addresses and balances transferred. As covered by CryptoComes, U.S.-based exchange Gemini was the first major centralized entity to enable shielded withdrawals.
That is why ZCash (ZEC) was much overhyped at its launch. In a moment, ZEC even surpassed Bitcoin (BTC) in terms of price. But nowadays, four years since the all-time high, ZCash (ZEC) is changing hands at $19.75, or down almost 99 percent from its historic maximum.
Mr. Watkins admitted that, according to some observers, ZEC miners and their selling activity may be among the most powerful catalysts of the downward price action. However, he calculated that miners are responsible for only 5 percent of transactions over the past year.
A glimmer of hope
ZCash (ZEC) is approaching its first halving scheduled for Nov. 18. Miners' rewards will drop to 3.125 ZEC per block. The next halving (on Nov. 15, 2024) will reduce this reward to 1.5625 ZEC.
Somehow, this reduction may strengthen the "sound money" narrative around ZCash (ZEC). Meanwhile, this event should not be referred to as a major catalyst in terms of price. In a nutshell, the blockchain is at a crossroads, so:
Zcash may be finally reaching a light at the end of the tunnel. But only time will tell what's on the other side of it.
At the same time, despite regulatory scrutiny and delistings from exchanges, the interest in privacy-focused coins is gaining steam in Q4, 2020.
As covered by CryptoComes, both Monero (XMR) transactions and ZCash (ZEC) shielded transfers revisited their historical highs in October of this year.