The liquid market cap is an integral measurement from the Messari crypto research team. It indicates a Tether-denominated value of all of the 'available' assets of a certain blockchain, i.e. not locked in any kind of smart or 'real-world' contract.
XRP is surpassed by Chainlink (LINK) in terms of liquid market cap
According to a tweet from cryptocurrency researcher, advisor and ex-Messari angel investor, Qiao Wang, the new all-time high of the Chainlink (LINK) price ($6.5) was accompanied last night by another meaningful achievement. Its liquid market capitalization surpassed XRP's.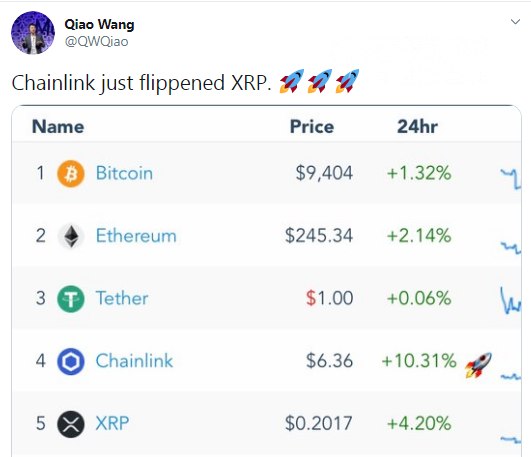 Image via Twitter
At press time, the Chainlink (LINK) price is 3.7% below its ATH, so its market capitalization is $6.2B, compared to the $6.38B of XRP. But LINK's closest chaser, Bitcoin Cash (BCH) is way behind it in terms of liquid market cap with $4.57B.
The Chainlink (LINK) and Cardano (ADA) pumps are the most splendid altcoin rallies outside the DeFi sector. Together, with bullish ETH/BTC price dynamics, they have led some analysts to predict the start of another 'altcoin season'.
First steps in crypto: waiting for a rising tide
Legendary Goldman Sachs analyst, Will Meade, excited the global blockchain community with the announcement of his debut in crypto. Surprisingly, he chose XRP as his first asset, despite its long-term pale performance.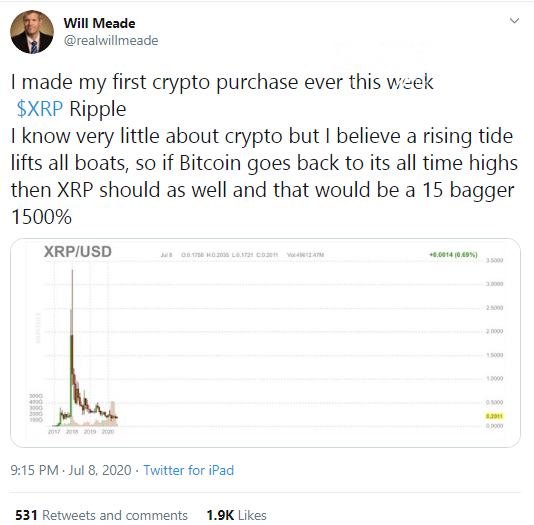 Image via Twitter
He assumes that if Bitcoin (BTC) and XRP both come back to their all-time highs, XRP will be changing hands at a 1,500% premium. So, investing in it now may be a smart bet.
Blockchain speakers are disappointed by this decision of the banking veteran. Riccardo Spagni, the co-founder of the Monero (XMR) privacy-focused protocol, foresees that this experiment may bring huge losses to Mr. Meade:
Sorry for your loss. You'd be better off buying penny stocks.
Max Keiser, a vocal Bitcoin (BTC) proponent, responded with a regretting meme. Also, some Ethereum (ETH) community members, suggested Mr. Meade look closer at the decentralized finance sector.