The correlation between Ethereum (ETH) and Bitcoin (BTC) prices may be entering a new cycle, according to Skew statistics.
One-year highs are right around the corner
The Skew on-chain analytics team has unveiled statistics for Ethereum (ETH) performance against the king coin. According to a chart shared in the team's tweet, one Ether is worth 2.6% of Bitcoin (BTC), which is very close to the three-month high.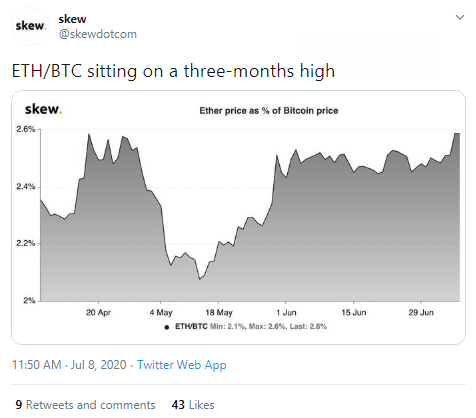 Image via Twitter
A clear ascending trend started in mid-May. Should this tendency continue, the ETHBTC indicator, which is extremely important to altcoin traders, will revisit the crucial 2.8% levels. These figures were showcased by Ethereum (ETH) before the bloody carnage of Black Thursday.
The progress of this trend may very soon bring Ethereum (ETH) to the ETHBTC levels of Q2, 2019, which have recently looked unachievable.
On some major spot trading platforms, Ethereum (ETH) even managed to surpass the April peaks at 0.026277.
Accidental lag or explosive upmove?
Traders are guessing why Ethereum (ETH) has started outperforming Bitcoin (BTC) in terms of price dynamics. Despite both leaders of the cryptocurrency realm being nowhere near their best days, the success of Ether excites the solid Ethereum (ETH) community.
Partially, it can be explained by DeFi euphoria. The Ethereum (ETH) blockchain remains the nucleus of the decentralized finance segment, so the strong performance of many DeFi native assets can affect the Ether price.
Moreover, many macro analysts, such as Daniel Tapiero and Michael van de Poppe, foresee that this Summer will be very interesting for Ethereum (ETH) performance due to fundamental factors.
However, Bitcoin (BTC) can mitigate its losses if its accumulation phase comes to an end, something which has been indicated by many top researchers.