The decentralized finance segment is celebrating a huge milestone amidst unprecedented hype. Many DeFi protocols break new records every week.
100% growth in five months only
According to leading decentralized finance explorer, DeFi Pulse, the total amount of money locked in various DeFi protocols has surpassed a breathtaking $2,000,000,000.

Image via DeFi Pulse
The steady growth of DeFi has just started: one month ago this indicator barely exceeded $1B. With the insane hype around these applications, many DeFi assets have been experiencing double- and even triple-digit gains.
For instance, the Compound Protocol Governance Token (COMP) pumped 159% in the first three days after its launch. Its market cap surpassed the capitalization of the decentralized finance veteran, Maker (MKR). It was the first time in the entire history of the industry that an asset entered the Top-20 days after its launch.
These tendencies, accompanied by the lucrative concept of 'yield farming', i.e., earning a profit on locked assets via sophisticated lending/borrowing schemes, allowed DeFi to achieve such an ambitious goal.
Is this important?
This achievement has been celebrated by the Ethereum (ETH) community. Eric Conner of Gnosis PM, a co-founder of the EthHub educational source, outlined that it took only five months for DeFi to double its TVL indicator. For the first time, this segment entered the ten-digit zone on February 7th, 2020.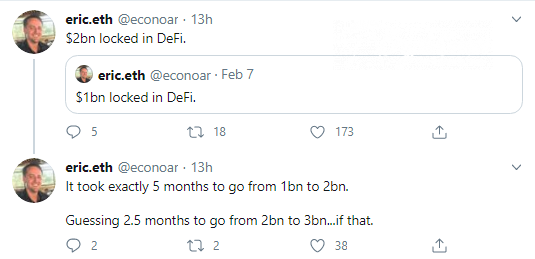 Image via Twitter
According to him, the DeFi industry could break above $3B TVL within just ten weeks.
However, the DeFi segment is still bashed by Vitalik Buterin, who says that euphoria around these protocols distracts from the valuable goals of smart contract ecosystems.