An airdrop of Spark tokens will be a "hello world" event for the tokenomics of the first ever XRP Ledger "utility fork." All XRP holders can claim Spark tokens with a 1:1 peg to their current token balance. More and more services add specific tools to enable Spark claiming in a one-click manner.
Yet another service supports Spark airdrop
According to the official statement by eToro—the popular crypto, stocks, commodities and forex trading platform—both eToro and its native digital assets exchange, eToroX, will support Spark airdrop. The platform is collaborating with the airdrop organizers to ensure reliable token distribution.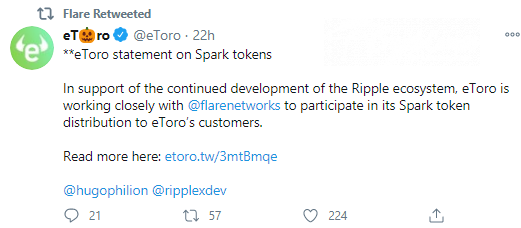 Image via Twitter
Flare Networks, the software team behind Spark airdrop and the upcoming Flare "XRP fork," are excited by this decision by eToro, as the platform has a huge audience worldwide:
This is a huge milestone for Flare and our deepest thanks go to the team at eToro who have worked hard to make this happen.
The snapshot of XRP balances will be taken on Dec. 12. Then the Spark tokens will be distributed among all XRP holders in the first half of 2021.
As covered by CryptoСomes previously, Flare Networks is focused on Spark airdrop support by top-notch exchanges.
On Oct. 17, Flare Networks confirmed that it is working with Binance and Kraken to enable intuitive Spark token claiming.
Flare Networks director to speak at global NFT event
The administration of Flare Networks is also promoting the product via interesting cryptocurrencies events. On Oct. 31, Mohammed Taysir, head of global business development, will be a guest speaker at the virtual NFT Black event hosted by the Tokyo Crypto community.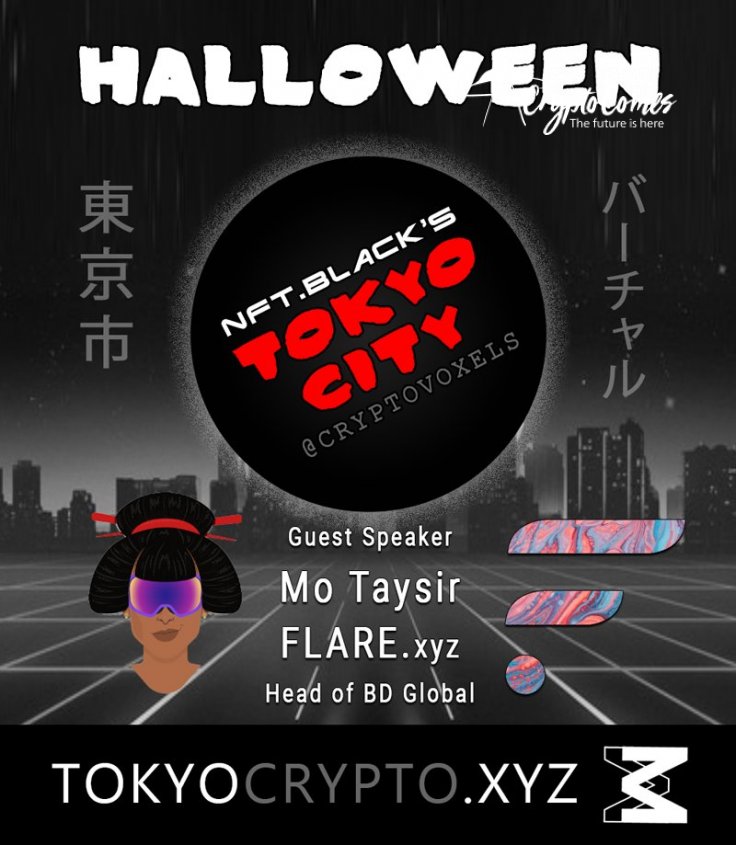 Image via Twitter
Also, Taysir is a global business development officer of the much-overhyped Hyperloop transportation technology startup.
Flare will empower XRP Ledger solutions with smart contract capabilities. The new protocol will act as a hosting platform for decentralized financial instruments.