More and more centralized and noncustodial platforms for XRP are releasing specific tools for seamless Spark airdrop claiming. Meanwhile, the Flare Networks team reported that the collaboration with the giants may be the next step in the progress of the "first XRP fork."
When Binance and Kraken?
Responding to the questions of passionate XRP enthusiasts, the representatives of Flare Networks revealed that, right now, they are working on collaboration with top-level exchanges. First-tier platforms can activate instruments to allow their XRP hodlers to receive Spark tokens in one click.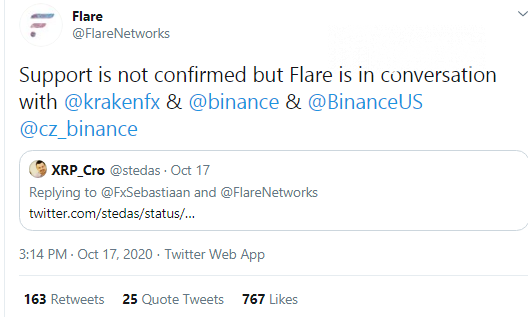 Image via Twitter
Binance and Kraken may be the first top platforms with Spark-friendly instruments. Besides the main Binance platform, the Flare Networks team also mentioned Binance.US, the American arm of the cryptocurrencies exchange giant.
According to CoinGecko independent blockchain analytics platform, Binance is the world-leading cryptocurrency exchange by trading volume. Kraken is in third place, while Binance.US closes the Top 5.
Also, the XRP community is interested in Spark airdrop support by Bitstamp, Revolut, CEX.IO and Crypto.com. One more popular multi-asset trading platform, e-Toro, has confirmed that Ripple Inc. and Flare Networks contacted it to discuss the prospects of the Spark airdrop.
More options for seamless airdrop
Spark tokens, which will act as a backbone for the tokenomics of XRP fork Flare, will be airdropped 1:1 to all XRP holders who confirm participation in the event prior to December. The snapshot of XRP balances will be taken on Dec. 12.
Numerous platforms deployed intuitive tools for their XRP-oriented customers. While the claiming process requires adding a special message to an XRP Ledger wallet, with centralized platforms this action takes only a few clicks.
Many trading ecosystems are celebrating Spark distribution with interesting contests and XRP airdrops. As covered previously by CryptoComes, D'Cent biometrics hardware wallet will reward all Spark distribution participants with 20 XRP.
Tokens.net crypto-to-fiat exchange has announced a 100,000 XRP trading competition for XRP/USDT and XRP/BTC pairs. All traders with at least one successful trade between Oct. 17 and Dec.10 are eligible for this contest.