More and more platforms are allowing crypto users to seamlessly join Spark (SPARK) airdrop by Flare Networks. Today, Oct. 14, it was announced that Tokens.net, a U.K.-incorporated exchange, has joined this process.
XRP holders onboarded by Tokens.net can claim SPARK seamlessly
According to the official statement released by the platform, all Tokens.net users can just deposit XRP tokens to their accounts and wait for the snapshot. The snapshot will take place on Dec. 12, while the exact date of the airdrop will be unveiled by Flare Networks soon.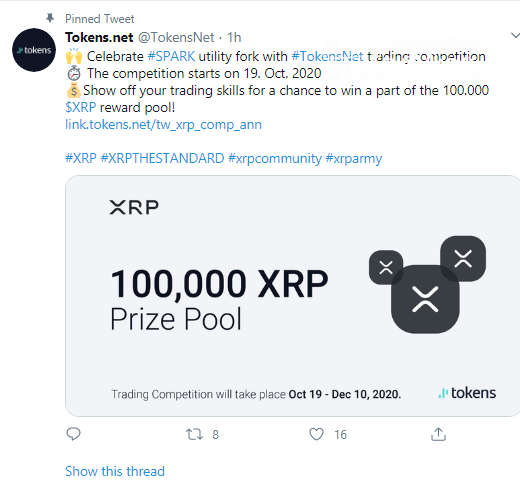 Image via Twitter
Thus, no further action is required from XRP Army soldiers who use Tokens.net as custody for their riches. All of them are counted as SPARK airdrop participants by default.
Many platforms around the globe have confirmed their support of the upcoming fork. Centralized exchanges, crypto lenders and wallets are assisting their users with this much-anticipated transaction.
As covered by CryptoComes, Exodus wallet and Coinspot.au—the leading Australian cryptocurrencies exchange—have released designs to claim Spark in one click.
Launched by crypto veterans Damian Merlak and Nejc Bukovec, Tokens.net is offering a wide range of services, including fiat crypto purchases and crypto-backed loans.
100,000 XRP trading competition to celebrate Flare support
Also, to celebrate this remarkable milestone, the Tokens.net platform has announced a trading contest with 100,000 XRP in rewards (about $25,000). All traders with at least one successful trade of the XRP/USDT or XRP/BTC pairs finalized between Oct. 17 and Dec. 10 of this year are eligible to take part in this championship.
Traders with the highest net trade volume will be rewarded with great prizes. For instance, the 1st place winner will receive 40,000 XRP while the 2nd and 3rd winners will get 20,000 XRP and 10,000 XRP, respectively. Prize XRP tokens will also count in the Spark airdrop, according to the Tokens.net team.
Flare is the first ever "utility fork" of XRP Ledger. It will empower XRP remittances instruments with smart contract capability. FXRP, the Ethereum-compatible parallel chain of XRPL, will onboard decentralized applications and DeFis.
As covered by CryptoComes, at least one DeFi protocol has already showed an interest in joining FXRP. Flare Finance is tasked with building a full-stack DeFi ecosystem with exchange, yield farming and lending/borrowing instruments.