Typically, hardware cryptocurrency wallets are referred to as the most secure tools for token storage. With a new partnership announced by XRP fork Flare, this type of wallets can also help users to earn on idle crypto.
Pioneering biometric hardware wallet supports Spark airdrop
According to the official statement by D'Cent hardware wallet, all of its XRP holders can claim Spark tokens in one click. To participate in Spark airdrop, a D'Cent user needs to allocate at least 20 XRP ($5) of his/her activated wallet. Then, he/she needs to install the latest updates for all elements of the software.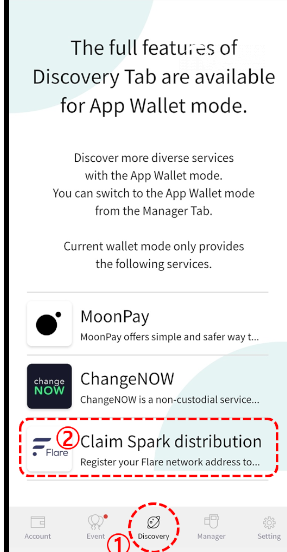 Image by D'Cent
In the "Discovery" tab, the user should choose the "Claim Spark distribution" option. Once this option is activated, the user can receive one Flare address for every XRP wallet he/she adds. The process for claiming should be confirmed with a biometric signature.
When the Flare snapshot takes place on Dec. 12, Spark tokens will be airdropped to the D'Cent hardware wallet with no further action required. The validity of the claiming operations can be checked immediately through a special XRPL-based tool.
The D'Cent wallet team admits that, actually, earning a Flare account for Spark tokens may take some time due to the current state of the XRPL network.
XRP airdrop and "yield farming" for Spark holders
To celebrate this useful feature implementation, the D'Cent wallet team launches the XRP airdrop. Any customer who purchases a D'Cent wallet between Oct. 15 and Nov. 13 will be rewarded with 20 XRP. Only the proof of purchase (the order number) and a valid XRP Ledger account is required for participation in the airdrop.
Flare Networks, the ideologists behind the Spark airdrop and Flare XRP fork, have applauded this step by the D'Cent wallet. Also, Flare Networks teased some lucrative DeFi options for Spark holders onboarded by D'Cent.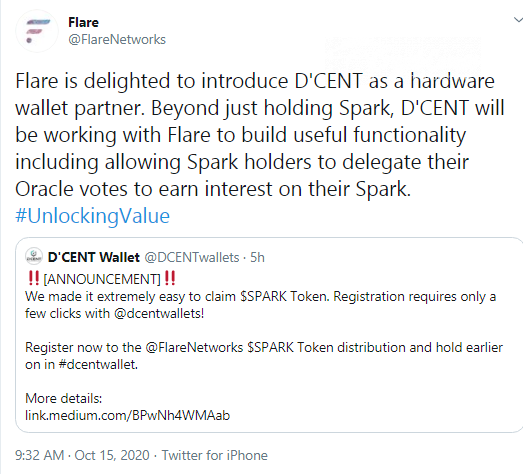 Image via Twitter
D'Cent will allow its users to delegate their Spark tokens and earn interest on them. Spark will be delegated in the form of "Oracle votes."
As covered by CryptoComes previously, Flare Finance—the first-ever DeFi protocol for Flare—will also release "yield farming" tools.