XRPScan, a major blockchain explorer service for XRP Ledger network, has released a dedicated feature regarding the upcoming Spark (FLR) distribution. XRP enthusiasts can see the accurate amount of FLR claimed by certain XRP address.
More transparency for Flare Networks
According to the official announcement shared by the XRPScan team in its latest tweet, the amount of FLR avaliable for airdrop to an XRP Ledger account is displayed on an explorer's page.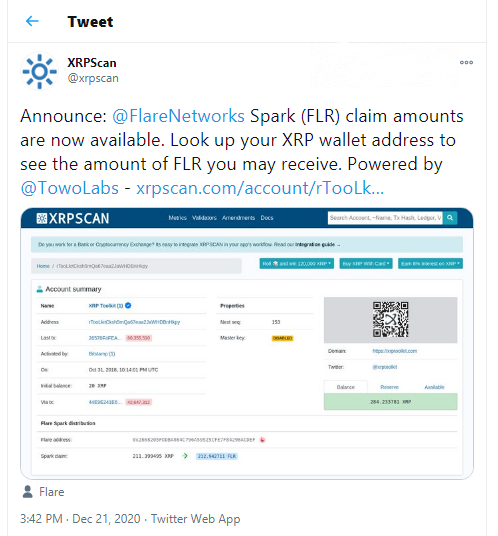 Image via Twitter
In a special "Flare Spark Distribution" section, there are displays of the Flare adress (Ethereum-like 0x.), the amount of XRP as of Dec. 12 (the snapshot date) and the corresponding amount of FLR that will be airdropped in the coming months.
The new feature was implemented in partnership woth TowoLabs, a software development firm well known for its expertise in XRPL-oriented solutions.
As covered by CryptoComes previously, FLR tokens will be airdropped in a 1:1 proportion to all XRP holders who claimed them before the airdrop took place on Dec. 12.
The first 15 percent of FLR will be distributed in early-to-mid 2021 while the remaining tokens will be transferred in 24 to 36 months.
Second FLR delegation service goes live
FTSO.EU, a token delegation service, has announced it will support FLR token delegation from the very first days of Flare Networks mainnet. It allows all FLR enthusiasts to delegate their tokens in order to earn passive income.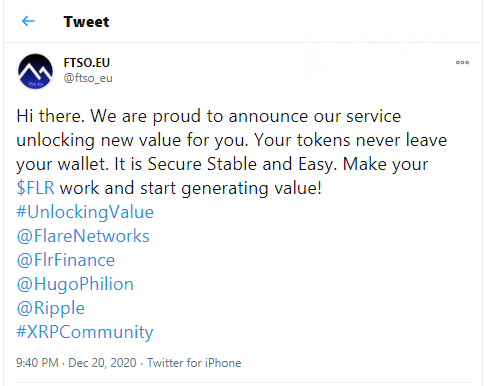 Image via Twitter
All operations on FTSO are said to be noncustodial: the team ensures that users' assets will not leave their wallets. As covered by CryptoComes previously, earlier in December, the first FLR delegation services was launched, Scandinodes.
Flare blockchain will empower XRPL instruments with smart contracts. Its Turing-complete system will utilize Avalanche consensus and will therefore be capable of onboarding dApps and DeFis.